« back to Movies
House at the End of the Street
Release Date: Sept. 21, 2012
Genres: Horror
Cast: Jennifer Lawrence, Elisabeth Shue, Max Thieriot, Gil Bellows, Nolan Gerard Funk, Aaron Ryder, Peter Block, Hal Lieberman
Directors: Mark Tonderai
Official Site: http://www.facebook.com/HouseAtTheEnd
Distributor: Relativity Media
Seeking a fresh start, newly divorced Sarah and her daughter Elissa find the house of their dreams in a small, upscale, rural town. But when startling and unexplainable events begin to happen, Sarah and Elissa learn the town is in the shadows of a chilling secret. Years earlier, in the house next door, a daughter killed her parents in their beds, and disappeared - leaving only a brother, Ryan, as the sole survivor. Against Sarah's wishes, Elissa begins a relationship with the reclusive Ryan - and the closer they get, the deeper they're all pulled into a mystery more dangerous than they ever imagined.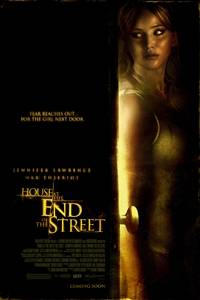 Show Times / Buy Tickets
There are no current showings for House at the End of the Street in this area.