« back to Movies
October Baby
Release Date: None
Genres: Drama
Cast: Rachel Hendrix, Jason Burkey, John Schneider, Jasmine Guy, Tracy Miller, Lance E. Nichols, Shari Wiedmann, Robert Amaya, Jennifer Price, Chris Sligh
Directors: Jon Erwin
Official Site: http://octoberbabymovie.net/
Distributor: IDP/Samuel Goldwyn Films
As the curtain rises, Hannah hesitantly steps onto the stage for her theatrical debut in college. Yet before her first lines, she collapses. Countless medical tests all point to one underlying factor: Hannah's difficult birth. This revelation is nothing compared to discovering that she was actually adopted . . . after a failed abortion attempt. Bewildered, angered and confused, Hannah embarks on a journey with Jason, her oldest friend. In the midst of her incredible journey to discover her hidden past and find hope for her unknown future, Hannah sees that life can be so much more than what you have planned.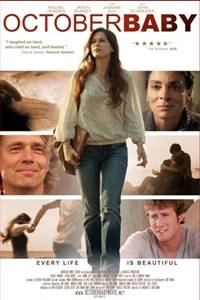 Show Times / Buy Tickets
There are no current showings for October Baby in this area.