« back to Movies
The Invisible War
Release Date: None
Genres: Documentary
Cast: Kori Cioca, Jessica Hinves, Ariana Klay, Trina McDonald, Elle Helmer, Hannah Sewell, Myla Haider, Paula Coughlin, Claudia Kennedy, Wilma L. Vaught
Directors: Kirby Dick
Official Site: http://invisiblewarmovie.com/
Distributor: Cinedigm
A groundbreaking investigative documentary about one of America's most shameful and best kept secrets: the epidemic of rape within the U.S. military. The film paints a startling picture of the extent of the problem-today, a female soldier in combat zones is more likely to be raped by a fellow soldier than killed by enemy fire. The Department of Defense estimates there were a staggering 22,800 violent sex crimes in the military in 2011. 20% of all active-duty female soldiers are sexually assaulted. Female soldiers aged 18 to 21 accounted for more than half of the victims.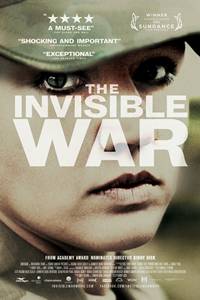 Show Times / Buy Tickets
There are no current showings for The Invisible War in this area.