« back to Movies
Amour
Release Date: None
Genres: Drama
Cast: Jean-Louis Trintignant, Emmanuelle Riva, Isabelle Huppert, Michael Haneke
Directors: Michael Haneke
Official Site: http://sonyclassics.com/amour/
Distributor: Sony Pictures Classics
Octogenarians Georges and Anne are retired music teachers whose daughter lives abroad with her family. When Anne suffers a stroke and is left paralyzed on one side of her body, the couple's abiding love for each other is put to the test.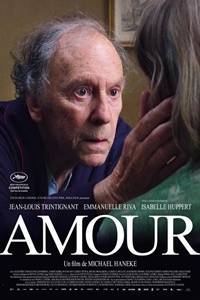 Show Times / Buy Tickets
There are no current showings for Amour in this area.