« back to Movies
Cloud Atlas
Release Date: Oct. 26, 2012
Genres: Drama, SciFi/Fantasy
Cast: Tom Hanks, Halle Berry, Jim Broadbent, Hugo Weaving, Jim Sturgess, Doona Bae, Ben Whishaw, James D'Arcy, Susan Sarandon, Hugh Grant
Directors: Lana Wachowski, Tom Tykwer, Andy Wachowski
Official Site: http://www.cloudatlasmovie.com
Distributor: Warner Bros. Pictures
The film explores how the actions and consequences of individual lives impact one another throughout the past, the present and the future. Action, mystery and romance weave dramatically through the story as one soul is shaped from a killer into a hero and a single act of kindness ripples across centuries to inspire a revolution in the distant future. Each member of the ensemble appears in multiple roles as the stories move through time.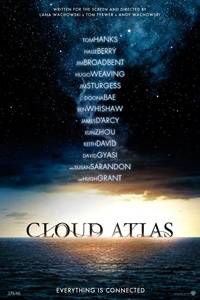 Show Times / Buy Tickets
There are no current showings for Cloud Atlas in this area.