« back to Movies
Any Day Now
Release Date: None
Genres: Drama
Cast: Alan Cumming, Garret Dillahunt, Isaac Leyva, Frances Fisher, Gregg Henry, Jamie Anne Allman, Chris Mulkey, Don Franklin, Kelli Williams, Alan Rachins
Directors: Travis Fine
Official Site: http://www.anydaynowmovie.com/
Distributor: Music Box Films
Inspired by a true story from the late 1970s and touching on legal and social issues that are as relevant today as they were 35 years ago, a powerful tale of love, acceptance and family. When a teenager with Down syndrome is abandoned by his mother, a gay couple takes him in and becomes the loving family he's never had. But when their unconventional living arrangement is discovered by authorities, the men are forced to fight a biased legal system to save the life of the child they have come to love as their own.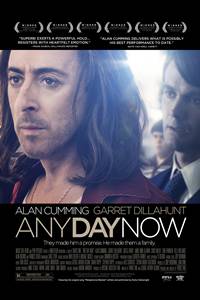 Show Times / Buy Tickets
There are no current showings for Any Day Now in this area.