« back to Movies
The Royal Ballet's "Alice's Adventures in Wonderland"
Release Date: None
Genres: Program, Musical
Cast: Sarah Lamb, Federico Bonelli, Zenaida Yanowsky, Steven McRae
Directors: Christopher Wheeldon, Christopher Austin
Distributor: Emerging Pictures
Those familiar with Lewis Carroll's literary menagerie of colorful characters will enjoy the clarity with which Christopher Wheeldon portrays them in dance. The whole Company is drawn into the fun, dancing a myriad of quirky characters: a twitchy White Rabbit, a tap dancing Mad Hatter, a sinuous caterpillar and so many more. Alice and the Knave of Hearts, deftly danced by two Royal Ballet Principal dancers, are at the centre of the story, and the role of The Queen of Hearts, another Principal, is wittily captured with hilarious results. Alice's Adventures in Wonderland is a brilliantly imagined show and, with a magical score, ingeniously inventive designs and a wealth of theatrical effects, has something for everyone to treasure.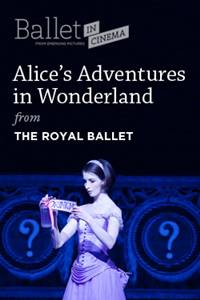 Show Times / Buy Tickets
There are no current showings for The Royal Ballet's "Alice's Adventures in Wonderland" in this area.