« back to Movies
Chennai Express
Release Date: None
Genres: Action/Adventure, Comedy
Cast: Shahrukh Khan, Deepika Padukone, Manorama, Sathyaraj
Directors: Rohit Shetty
Official Site: http://www.chennaiexp2013.com/
Distributor: UTV Communications
This is the story of Rahul who embarks on a journey to a small town in Tamil Nadu, only to fulfill the last wish of his grandfather to have his ashes immersed in the Holy water of Rameshwaram. En route, he meets a South Indian girl hailing from a unique family down South. As they find love through this journey in the exuberant lands of South India, an unanticipated drive awaits them. What follows is a series of adventures where he finds himself in estranged situations, challenged with an unfamiliar language! This film is an action packed romantic journey.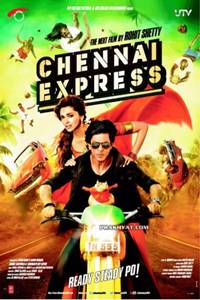 Show Times / Buy Tickets
There are no current showings for Chennai Express in this area.