« back to Movies
Acquire the Fire Presents: Surge
Release Date: None
Genres: Program
Official Site: http://www.surgeexperience.com/
Distributor: Screenvision
Acquire The Fire & Teen Mania present SURGE, a high-energy interactive movie theater event that fuses music, comedy, and inspirational messages creating a moment where young people and those who believe in them fill theaters across North America on a single night. SURGE features empowering and inspirational messages by Ron Luce interwoven between the hilarious comedy of John Gray and musical performances by award-winning Christian artists Casting Crowns, Newsboys, Lecrae and worship artists Acquire the Fire LIVE. SURGE creates an evening that will inspire, entertain and empower generations looking to make a difference.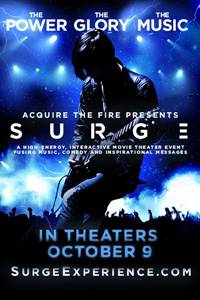 Show Times / Buy Tickets
There are no current showings for Acquire the Fire Presents: Surge in this area.