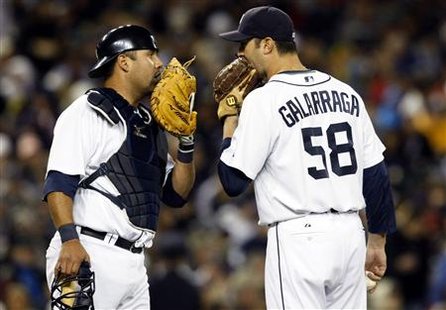 DETROIT (Reuters) - The Detroit Tigers and Minnesota Twins sealed victories Sunday to end the regular season deadlocked for first place in the American League Central.
They will meet in a one-game tiebreaker Tuesday in Minneapolis to decide the division's playoff representative.
"We had our backs totally up against the wall, and we won," Tigers manager Jim Leyland told reporters after Detroit beat he Chicago White Sox 5-3 behind Justin Verlander (19-9).
"We still have a heck of a chance, obviously, to win this division," Leyland said.
Minnesota pounded the Kansas City Royals 13-4 in Minneapolis for their fourth consecutive win. Jason Kubel hit two three-run homers for the Twins while Delmon Young added two solo home runs.
The results left the Tigers and the Twins with identical 86-76 records, forcing an extra game to decide the only berth remaining in Major League Baseball's post-season.
The Tigers' Verlander pitched seven-plus innings and gave up six hits and struck out five.
Ryan Raburn homered twice, the second a solo shot in the sixth giving Detroit a 5-0 lead before the White Sox scored three runs in the eighth off Verlander.
THREE-RUN HOMERS
At Minneapolis, Kubel hit three-run homers in the first and third inning for a 7-0 Minnesota lead. The Royals came within 8-4 in the sixth, but the Twins scored the game's final five runs.
Tuesday's winner will meet the AL East champions New York Yankees in the best-of-five divisional series starting on either Wednesday or Thursday in New York.
AL West champions the Los Angeles Angels will host the wildcard Boston Red Sox in the league's other playoff series with the opening date to be determined.
In the National League, the West champion Los Angeles Dodgers will host Central winner St. Louis and wildcard Colorado will play at the East champion Philadelphia Phillies.
Both NL series are due to start Wednesday.
(Reporting by Gene Cherry in Raleigh, North Carolina. Editing by Ed Osmond and Greg Stutchbury)