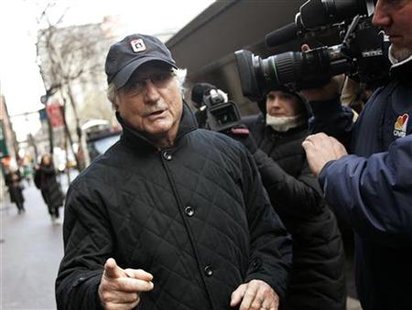 By Grant McCool
NEW YORK (Reuters) - The inability of investigators to precisely determine the billions of dollars swindled from investors by Bernard Madoff makes it impossible to meet a September 28 court deadline for restitution decisions, U.S. prosecutors said on Tuesday.
The office of the U.S. Attorney asked a Manhattan federal court judge to agree to allow the thousands of investors to be paid with proceeds from Madoff's forfeiture of ill-gotten assets instead of the customary restitution in criminal financial cases.
Prosecutors argued that it would be easier to distribute money to swindled investors through forfeiture law. Madoff, who is imprisoned for the rest of his life, consented to a forfeiture order for $170 billion, a symbolic figure because he is not believed to possess anywhere near that much money or assets.
On Tuesday, prosecutors suggested retaining New York lawyer Irving Picard, the court-appointed trustee who is winding down the firm Bernard L. Madoff Investment Securities to supervise the forfeiture process. The trustee already has the job of trying to recover as much money as possible under the Securities Investor Protection Act (SIPA).
"The scope of the fraud, its duration and the lack of a readily available complete set of account records have required the SIPA Trustee to attempt to reconstruct books and records sufficient to identify victims and their losses," the government memorandum said.
Madoff, 71, is serving a 150-year sentence in a medium-security prison in Butner, North Carolina, after pleading guilty in March to Wall Street's biggest investment fraud of as much as $65 billion over two decades.
Madoff admitted to running a giant Ponzi scheme, a fraud in which early investors are paid with money from new clients, but it collapsed in the faltering economy as redemption requests overwhelmed money available.
In June, U.S. District Court Judge Denny Chin granted a government request to defer decisions over restitution until September 28. Prosecutors said on Tuesday that they could not meet that deadline.
Trustee Picard has identified 2,336 account holders who lost more than $13 billion up to December 11, 2008 when Madoff was arrested by the FBI, according to court papers.
The case is USA V Madoff 09-213 in U.S. District Court for the Southern District of New York (Manhattan)
(Reporting by Grant McCool; Editing by Richard Chang)