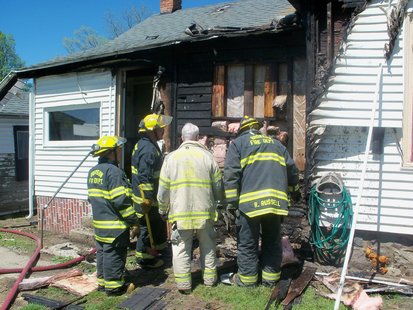 COLDWATER (WTVB) - Bronson fire officials say three people were fortunate to escape a blaze yesterday that heavily damaged their home. The fire at 131 Winona Street broke out shortly after noon on Tuesday. Fire Chief Brent Wilber said Josh Fleming was at the Shell Mart just to the south of house and saw the smoke and then ran over to the residence, telling them to get out because the flames were climbing the side wall of the house.
Wilber said Cathleen Powell, her 1-and a-half year old daughter as well a teenage girl were unaware of the fire and quickly fled the home. A dog tied up on the side of the house died in the fire, which Wilber said was sparked by a plastic garbage can that was stored very close to the residence. Among other things, it contained some toilet bowl cleaner and other cleaning supplies, causing a chemical reaction.
Home owner Jay Font was at work at the time. Damages were estimated at 60-thousand dollars to the structure and 20-thousand dollars to the contents, even though many of them were saved by firefighters, including family pictures. It took about an hour to bring the fire under control.