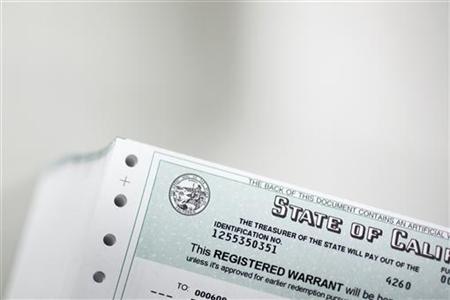 By Jim Christie
SAN FRANCISCO (Reuters) - California Governor Arnold Schwarzenegger has state employees on the ropes.
Growing public outrage over their pay, benefits and pensions has helped the Republican governor put state workers and their unions on their heels.
Last week he declared a fiscal emergency and ordered three days a month off without pay for the workers, allies of Democrats who control the legislature and oppose his plan to slash spending to close a $19 billion deficit and balance the state's books, as required by law.
State workers should be screaming bloody murder as they did when furloughs were imposed last year. But public resentment at their compensation, including what analysts describe as "pension envy," has reined them in and muted their protests.
"Most Americans believe that federal employees and other government employees are paid more than comparable private-sector employees," said pollster Scott Rasmussen. "When we've asked about 10 percent pay cuts for public employees, people have overwhelmingly supported that."
A recent Rasmussen Reports poll found 69 percent of respondents nationwide opposed paying higher taxes to avoid public-sector layoffs. The response underscored a hardening of attitudes since early 2009, tied to rising pessimism among private-sector workers about personal finances and job security, Rasmussen said.
PENSION POLITICS
With the recession depressing revenue, states are struggling to keep up with pension costs, with New Jersey and Illinois opting to skip fiscal 2011 payments or issue bonds to raise cash for their retirement systems.
States collectively face a shortfall of at least $1 trillion in funding for employee pensions and retirement benefits, according to a Pew Center on the States report.
Local government pensions also face financial stress, and even in liberal San Francisco some say there are limits to how much the city can afford to spend on its retired employees.
A measure on San Francisco's November ballot aims to reduce the city's public pension costs. They currently account for one in five dollars of city spending, an amount that will swell over time due to generous contracts, said San Francisco Public Defender Jeff Adachi, who is pushing the measure.
"The idea of the public employee earning a paltry amount to do a public service is no longer true," he said, adding that a scandal in Los Angeles County has cemented public-sector compensation as a top issue in California's race to succeed Schwarzenegger.
The scandal, which has attracted national attention, is the "poster child of what's wrong with public-sector compensation," said San Diego City Council Member Carl DeMaio.
ALARM BELL
The scandal erupted last month over reports that Bell, a city of 37,000 in Los Angeles County, had been paying its city manager $787,637 a year, or nearly twice U.S. President Barack Obama's salary, along with a pension that could top $30 million if he lives to age 83.
The California Public Employees' Retirement System, the nation's biggest pension fund, joined state Attorney General Jerry Brown to launch a probe into Bell's compensation practices, which included paying most members of its part-time city council $100,000 a year, while roughly a quarter of its residents live in poverty.
The outrage has been felt across California, where the jobless rate tops 12 percent, leaving millions struggling to make ends meet. Private-sector workers also are worried that 401(k)s retirement plans slammed in the crisis will never recover and can only envy public-sector workers their job security and guaranteed retirement benefits.
"The pay and benefits issue is really striking people," said Pete Peterson of the Davenport Institute at Pepperdine University's School of Public Policy. "If unemployment were back around 4, 5, 6 percent I don't think we would be seeing this level of citizen engagement."
Steven Falk, city manager of Lafayette, California, said on his town's website that Bell "effectively pours gasoline on the fiery and growing national movement that is disapproving of public workers and the unions that represent them."
The outing of salary levels in Bell has spurred searches for large public employee salaries in other states. The Chicago Tribune this week reported on a Chicago suburban park district official who pocketed $435,203 in salary and bonuses in 2008.
BIPARTISAN INTEREST
California's public employee unions worry that Republican Meg Whitman, former chief executive of eBay Inc, will succeed Schwarzenegger as governor and press hard on pension reform.
She has called for raising the retirement age, longer vesting periods and, of most concern to public-sector unions, putting new workers into 401(k)-style retirement plans.
Brown, the Democrats' nominee for governor, does not back reform that would "privatize," according to public-sector unions, public pensions.
But Brown has seized on the Bell scandal and proposed forcing public employees to chip in more for their pensions, having them work longer and basing pensions solely on salary. Last-minute promotions, bonuses and overtime can now be used to inflate pensions.
"A big part of the thinking behind it is that there is always only a certain amount of money and that anything you spend on 'A' means less money to spend on 'B,'" said Brown campaign spokesman Sterling Clifford.
Adachi's measure in San Francisco would require current city workers to put more of their money toward pensions and pay more for health care in retirement, saving the city about $170 million a year.
Adachi said his focus is on existing workers because their pensions already consume so much of the city's spending and pose a real threat to its finances. He noted that Vallejo, California's closely watched municipal bankruptcy two years ago had its roots in compensation for firefighters and police officers, which had forced the city to slash spending on nonemergency services.
"When you start looking at how these pension funds work and the promises that have been made, you see the pension funds are unsustainable in their current form," Adachi said.
San Francisco's pensions are based on fat paychecks, Adachi said, noting that the average San Francisco employee's annual pay is $93,000, versus $46,000 in the private-sector. A third of city workers make $100,000 or more a year.
FROM BAD TO WORSE
The $525 million San Francisco spends on employee pensions and health care will soar, Adachi said: "It's going to go up to about $818 million in five years, and as more money goes to the pension fund, the less money there is for essential services."
Local officials across California are responding to rising pension costs with a grab-bag of solutions: later retirement ages, increased personal contributions, less generous benefits. In San Diego, DeMaio anticipates buy-outs for public employees to reduce pensions and a move to hire part-timers who will not be eligible for pensions.
"You have to put everything on the table because this is such a momentous problem," said Joe Nation, a former Democratic lawmaker now at the Stanford Institute for Economic Policy Research. Nation this year oversaw an institute study that calculated that California's state pension funds face a combined unfunded liability of more than $500 billion.
There is no time to waste on reform, said former Redwood City, California, city manager Ed Everett: "City managers are looking out five years and saying that 'If I don't get a handle on pensions and health benefits, things are going to go from bad to worse'."
At the state level, Schwarzenegger is trying to coerce reforms by threatening to withhold his signature on any state budget unless it includes money-saving changes to California' pension system. He has called the system the single biggest threat to California's fiscal health.
(Editing by James Dalgleish)