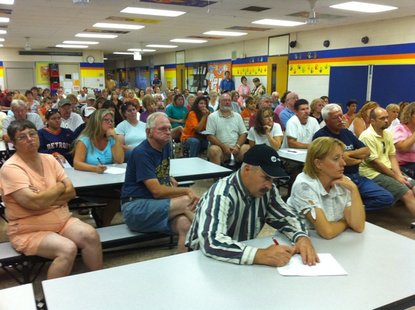 QUINCY (WTVB) - An estimated crowd of 110 packed the Jennings Elementary School Commons Monday night for the regular meeting of the Quincy Board of Education, with some critical of the actions of Quincy Middle School Principal Penny Brockway and Board Trustee Tyler Baldwin.
Following the conviction of Quincy substitute teacher, coach, and parent Doug Jodway on child pornography possession earlier this year, Brockway wrote a letter to the judge hearing the case requesting a minimal allowable sentence for the sake of Jodway's two children. Letters to the Daily Reporter, an ad in last week's Shoppers Guide, and various Facebook discussion threads helped to fan the flames of some of the speakers during the public comment section of the meeting. Lisa Cornell said, "How dare you use the Principal status as a way to lessen his time?", while Angela Robertson asked, "If you're going to support and ask for a reduction in sentence, what makes me feel like you're going to put my kids first?", and John Shilling said, "Penny...had the right to write the letter, and she should have wrote it and asked for more sentence, not less." Baldwin also wrote a letter of support for Jodway.
Quincy Superintendent Joe Lopez addressed the concern at the outset of the meeting, saying that "My concern was poor judgement in writing down 'Middle School Principal' in her letter. She had every right to write that letter. Mr. Baldwin had every right, in my opinion, to write that letter. But my issue was putting down 'Middle School Principal' and using her affiliation with the school district." Lopez stated that the issue was dealt with privately.
Brockway, for her part, felt that she had done the right thing. She told the Board and the audience, "My intent with the letter in writing it was to be an advocate for the Jodway children. My audience was one judge who knew all the details, inside and out, of the case of Mr. Jodway. And I would like to say that I am called, as a human being on this Earth, to be an advocate for children and to stand up (for) what is best for them, and I believe I did so in the case of the two Jodway children."
The meeting convened in the district Administration Building, went into recess, and moved across the street into the Jennings Elementary Commons to accommodate the large audience.