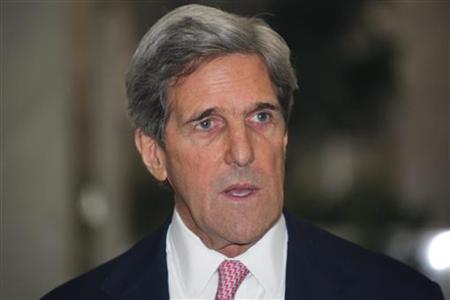 By Paul Tait
KABUL (Reuters) - The United States does not have limitless patience to support an Afghan government that does not work harder to stamp out corruption and improve governance, influential Democratic Senator John Kerry said on Tuesday.
Afghanistan faces parliamentary elections on September 18, 13 months after a fraud-marred presidential ballot that tainted the mandate of Afghan President Hamid Karzai.
Kerry, chairman of the Senate Foreign Relations Committee, said Karzai and his government had made advances since then but must work harder to convince the Afghan and American people he remained worthy of their support.
"That's the test right now, that's why I'm here, because I think President Karzai and his government need to understand that there is no patience for endless support for something that doesn't meet higher standards with respect to governance," Kerry told a small group of reporters in Kabul after meeting Karzai.
Accusations of corruption and complaints about his government's competence have long dogged Karzai, often straining relations with Washington and other important Western backers.
That concern was heightened after last August's presidential poll, when a U.N.-backed probe discarded nearly a third of the votes cast for Karzai as fake.
Another question mark hangs over Karzai's half brother, Ahmad Wali Karzai, the head of the Kandahar provincial council who has been accused of corruption and ties to Afghanistan's huge opium trade that helps fund the growing Taliban-led insurgency. Ahmad Wali Karzai denies the accusations.
Kerry described corruption as one of the most significant challenges Karzai's government faces, at a time when violence has reached its worst levels since the Taliban were ousted by U.S.-backed Afghan forces in late 2001.
SAGGING SUPPORT
Corruption and governance in Afghanistan are being scrutinized in Washington as President Barack Obama plans a strategy review in December, a month after mid-term Congressional elections will be held amid sagging support for the war.
Obama's Democrats are also deeply divided over the war. Congress took six months to approve funding for the 30,000 extra troops Obama is sending to Afghanistan this year as part of a new strategy to confront the Taliban.
"(Karzai) is well aware that this test is an important one for him and for the government," Kerry said. "He knows that there are people on both sides of the aisle in Congress who are anxious about what's happening and not happening here."
Kerry said positive steps had been made with the formation of an anti-graft taskforce and a major crimes investigation unit.
Similar steps in the past have had scant success. "I think under the circumstances we need to work closely with the president in the next weeks and days to set up a series of very specific goals, benchmarks by which we go forward," Kerry said, without elaborating on what those benchmarks might be.
He said it was not yet time for Washington to abandon its support of Karzai simply because Americans were impatient for results, adding that Obama's new strategy of sending extra troops had only been in place since December 2009.
Obama also wants to begin withdrawing troops from July 2011 if Afghan security forces are sufficiently prepared, with Karzai setting an ambitious goal of 2014 for Afghans to take complete responsibility from foreign forces.
"I understand the impatience but impatience is not a strategy and impatience doesn't meet the security needs of our country," said Kerry, who was to have dinner with Karzai later on Tuesday.
Karzai has his own gripes with Washington, accusing it of ignoring Pakistan's role in the Taliban-led insurgency, complaints exacerbated by the leak of tens of thousands of classified U.S. military reports last month.
Kerry said Karzai also wanted to see more Afghans take over roles performed by international agencies and an end to the duplication of efforts in some areas, such as aid work.
"There are things he needs to do, and things we need to do," he said.