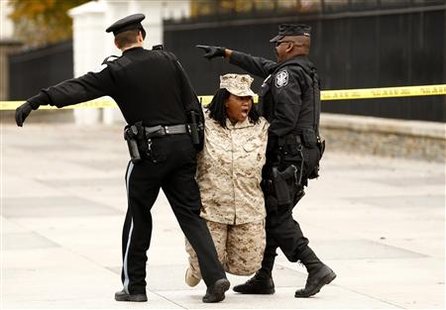 By David Alexander
ABOARD A U.S. MILITARY AIRCRAFT (Reuters) - Defense Secretary Robert Gates urged Congress on Friday to lift a ban on gays serving openly in the military, saying he was disappointed by the Senate's failure to act this week and fearful of leaving the issue to the uncertainty of the courts.
Gates, who was returning from a trip to Afghanistan and the Gulf, made his remarks after Senate Republicans on Thursday raised procedural hurdles to prevent the chamber from voting on a regularly approved military funding bill because it contained a repeal of the ban.
"I was disappointed in the Senate vote but not surprised," Gates told reporters aboard his plane, noting he had told sailors on the aircraft carrier USS Abraham Lincoln earlier this week he was not optimistic.
He urged Congress to act on the repeal in the days before a new Congress is seated in January. The administration is expected to have greater difficulty passing legislation in the new Congress because Democrats lost control of the House of Representatives in November elections and saw their majority in the Senate shrink.
"The fact remains, though, that there is still roughly a week left in the lame-duck session," Gates said. "So I would hope that the Congress would act. If they are unable to do that, then ... my greatest worry will be that we are at the mercy of courts and the lack of predictability."
Under the current "Don't Ask, Don't Tell" policy, the military does ask service members about their sexual preferences and homosexuals are allowed to serve only if they do not make their sexual preferences public. Gay service members can be removed from the military if their sexual preferences become known.
President Barack Obama has pledged to repeal the 17-year-old law, enacted as a compromise in 1993 during President Bill Clinton's administration. The Pentagon engaged in a lengthy study this year to determine whether lifting the ban would affect military discipline and order and suggest the best way for implementing a repeal of the ban.
That process was thrown into doubt in October when a California judge ruled the ban was unconstitutional and ordered the military to stop enforcing it immediately. The federal government has appealed the decision and obtained a stay. The appeal is expected to be heard next spring.
Gates said he was most concerned about the potential for "extraordinary confusion" caused by the court challenge. At one point after the October ruling, the Pentagon had several different policies during the course of two weeks as the appeal made its way through the courts.
Gates said the review carried out by the military, which was released November 30, had provided a roadmap forward for preparing the military for a lifting of the ban. But he said it would not be appropriate for training to begin before Congress changed the law.