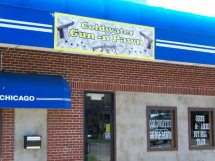 COLDWATER (WTVB) - The U.S. Supreme Court today issued a ruling that extends gun rights to every city and state in the nation. In a 5-4 ruling, the court has reversed a lower court ruling that had upheld Chicago's handgun ban.
Mike Rice is one of the owners of the Coldwater Gun and Pawn Shop and believes the ruling will do his business some good, adding that it's everyone's right to have a gun.
The Supreme Court ruling was split along the court's liberal and conservative lines. The majority opinion ruled that the Second Amendment also governs state and local gun laws. Rice, who re-located to Coldwater from Jonesville this spring, says he isn't so concerned now about possible weapons restrictions that gun owners believed could possibly be enforced with the backing of the Obama administration. And Rice says as a result, business has picked up.
Writing for the majority, Justice Samuel Alito said, quote, "We hold that the Second Amendment right is fully applicable to the states." Outgoing Justice John Paul Stevens wrote the minority opinion. He said the issue before the court had already been decided in 19th century cases and that the arguments against Chicago's ban on handguns weren't strong enough to defeat precedent.