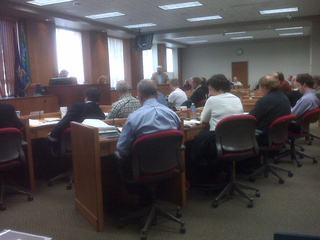 GREEN BAY, Wis. (WTAQ) - It took a lot of give and take, but Green Bay aldermen reached a compromise on the 2011 city budget.
After more than eight hours of debate, a unanimous vote came down in favor of the amended budget. It calls for keeping taxes flat, but won't cut positions from the Parks Department, as the Mayor planned and adds five more police officers.
The City Council found some money by moving Green Bay Metro's surplus into the general fund.
"This doesn't affect service. It doesn't cut busses. We're just as 'green' as we were before," Alderman Shae Sortwell said.
But Alderperson Amy Kocha worried about the consequences the city bus service could face.
"We're down to a potential tax increase of a penny," Kocha said. "Let's get real. Why take those kind of chances?"
Cuts also coming from employee health insurance and furlough days. The city expects additional revenue from Bay Beach Amusement Park and a new bulk garbage pick up fee.