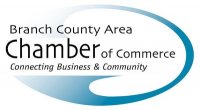 COLDWATER (WTVB) - The Chamber's Board of Directors announced today that Hillary Eley will be moving on to new endeavors after a dozen years as Chamber President. Chamber Chairman Aaron Garn said the Board wanted to express its sincere gratitude and appreciation to Hillary for many years of commitment, excellence, and service to the community with wishes for great success in the future.
Eley, who launched her own marketing firm earlier this year, will be pursuing that venture full-time with October 8th her official departure date as Chamber President Eley said she was extremely proud to be associated with the Chamber, and appreciated the opportunities and friendships the position afforded her and will continue to offer her full support as needed.
Garn said the Board plans to explore a full range of options as it considers Eley's successor and called it an exciting opportunity for the Chamber. Eley has agreed to be available to the Chamber as required to ensure a smooth transition. The Branch County Area Chamber of Commerce is a 450-member business association.