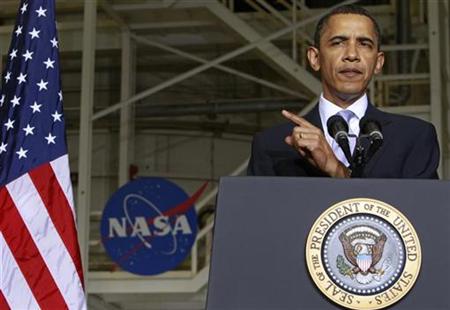 By Irene Klotz
CAPE CANAVERAL, Florida (Reuters) - President Barack Obama is expected early next month to sign into law a new NASA budget that adds a space shuttle mission, begins work on a new deep-space rocket and seeds development of commercial space taxis, the agency's deputy administrator said on Thursday.
The budget authorization bill for the space agency passed the House of Representatives by a vote of 304 to 118 late on Wednesday after passing the Senate earlier.
"The President is expected to sign this," NASA Deputy Administrator Lori Garver told reporters, adding that the signing would likely occur within 10 days.
Appropriation of the requested $19 billion budget is pending U.S. lawmakers' return after the November 2 elections. Until then, NASA, like the rest of the U.S. government, will operate under a continuing resolution.
Congress, fueled by input from former astronauts, has been fighting over Obama's plan to end his predecessor's moon-focused Constellation program and change tack, with a trip to an asteroid in 2025, for example.
A move to make NASA a customer for, rather than provider of, crew launch services to the International Space Station is the most controversial part of Obama's plan. Opponents question the strategy of relying on unproven commercial providers for flying astronauts.
NASA chief Charles Bolden, however, defended the Obama plan.
"This important change in direction will not only help us chart a new path in space, but can help us retool for the industries and jobs of the future that will be vital for long term economic growth," Bolden said in a statement.
There is more support for Obama's plan to continue funding for the International Space Station, a $100-billion, 16-nation project due to be finished next year.
Congress also clipped Obama's $6 billion, five-year plan to spur development of commercial space taxis down to $1.3 billion over three years.
Garver said the agency is studying how best to buy space commercial transportation services and already is taking steps such as compiling safety requirements for human space vehicles. She said NASA will expand a program to assist companies wanting to develop passenger spaceships, launchers and related technologies.
Five firms -- Blue Origin, Boeing Co., Paragon Space Development Corp., Sierra Nevada Corp., and United Launch Alliance, a Boeing-Lockheed Martin partnership -- are working under NASA contacts totaling $50 million for commercial crew development.
The agency has contracted with Space Exploration Technologies, or SpaceX, and Orbital Sciences Corp for $3.5 billion to deliver cargo to the space station.
"Marking a once-in-a-generation shift, Congress has established that commercial vehicles will now be the primary means of flying astronauts to Low Earth Orbit, allowing NASA to focus its own resources on exploring distant destinations like asteroids and Mars," Commercial Spaceflight Federation President Bretton Alexander said in a statement.
Until commercial firms are ready to fly people, NASA will pay Russia more than $50 million per person to transport its crews. The shuttles are being retired primarily because of high operating costs of about $3 billion a year.
The extra shuttle flight is targeted to fly next summer with a load of spare parts to keep the station running after the shuttle fleet is retired.
NASA plans to fly the shuttle Discovery in November with supplies for the station and the shuttle Endeavour in February to deliver the $2 billion Alpha Magnetic Spectrometer particle detector.
(Editing by Paul Simao)