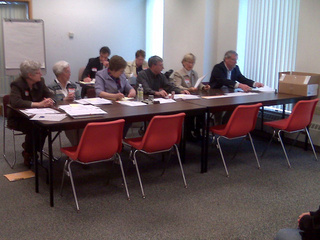 MADISON, Wis. (WTAQ) - The Wisconsin Supreme Court recount got off to a rough start Wednesday in Waukesha County.
That's because a bag of ballots cast in the town of Brookfield on April 5th did not have matching identification numbers as required.
It was noted that the number of a bag-seal was not the same as what was listed on a recorded form. But observers for both candidates in the Supreme Court said there was other evidence which showed the mistake was inadvertent, and they allowed the recount to begin.
Ballots were opened in all 72 counties, and each one is being checked to make sure the voters' intents were clear. They're then being counted for a second time – some by hand, and some by machine.
Almost 1.5 million Supreme Court ballots were cast statewide, and a canvass showed that incumbent David Prosser defeated challenger JoAnne Kloppenburg by less than one-half of one-percent.
By law, the recount is supposed to be finished by May 9th. But the county clerk in Madison said Wednesday she doubted they would meet the deadline.
Clerk Karen Peters says 182,000 ballots must be checked – and her staff believes that 13 days won't be enough.
If that becomes clear by next week, state officials say they'll ask a judge for an extension in the places that need it.