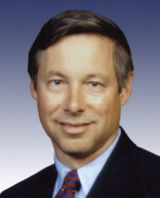 WASHINGTON D.C. (WKZO) -- Two of the 12 members of congress who have been appointed to a debt reduction "Super-Committee" will be from Michigan. They will be tasked to find another 1.4-trillion in budget cuts by Thanksgiving.
Named to the group are local Rep. Fred Upton and Dave Camp of Midland. Retired Senator Alan Simpson says this particular group is more likely to butt heads than collaborate, with several hard liners among them. He does not envy them for what they are being asked to accomplish.
The creation of the committee was part of the debt reduction plan adopted to get republicans to sign off on extending the debt ceiling. Speculation is running high that the Super-committee may crash and burn with such a daunting mission and so little time to do it.
Professor John Clark, Chair of the Western Michigan University Department of Political Science, thinks that's maybe why House Speaker John Boehner selected Upton as one of three House GOP members to serve on the panel -- because Upton's known as someone who can work with others. Plus, Clark says that Upton isn't much of a "celebrity" politician who will make the process about himself:
Clark says he will be there on party business, and not necessarily representing his constituents back home. Also named to the panel was Michigan Congressman Dave Camp, who chairs the tax-writing House Ways and Means Committee that oversees Social Security and Medicare.