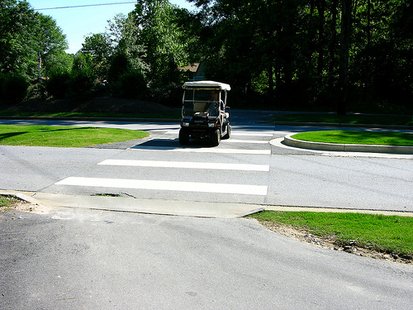 COLDWATER, MI WTVB) - Regulations and licensing for Amish buggies and golf carts on public roads are on the mind of Branch County Sheriff Warren Cannon these days. That's what theCountyBoardof Commissioner's Sheriff's and Public Safety Committee learned at its meeting Thursday. Cannon said his office has received an increasing amount of calls and complaints regarding golf carts being driven on county roads and he's telling anyone who asks it's against the law inBranchCountyand surrounding counties.
However, he said in most Northern Michigan counties, it's allowed, based on permission granted by the DNR and assuming the carts are properly modified to meet state regulations for slow moving vehicles.
There seems to be some confusion as to whether anyone anywhere in Michigan can receive a license and title for an electric powered golf cart to operate on public roads. Yes, they are allowed but there are a number of stipulations, regarding minimum and maximum speeds and the cart has to be properly inspected and deemed road ready with the proper lights, signals, bumpers, etc.
Meanwhile, Cannon said in the aftermath of the fatal buggy-pickup truck collision last week on Jonesville Road, he's going to be investigating the possibility of proposing an ordinance that would require horse drawn buggies in the county to have ownership identification on the vehicles, which would assist authorities in names and notification of next of kin in case of an accident. The buggies are not required to be licensed in Michigan.