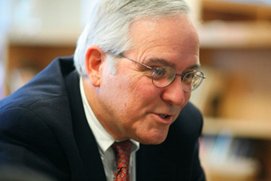 UNDATED, MI (WKZO) -- As we reported, with the support of some heavy hitting big money Republicans, Charter School Executive Clark Durant has made it official. He will jump into the U.S. Senate race in Michigan. Durant is the founder of Cornerstone Schools and New Common Schools in Detroit.
He is endorsed by former senator Spencer Abraham and former party chairs Saul Anuzis and Betzy DeVos. He ran for U.S. Senate once before over 20 years ago and never made it past the primary.
It's now a crowded field with Pete Hoekstra the current front runner. Also in the hunt: Kent County Probate Judge Randy Hekman, Roscommon businessman Peter Konetchy and Midland resident Gary Glenn, president of the American Family Association of Michigan.