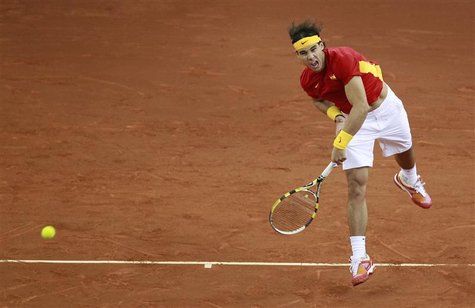 By Iain Rogers
SEVILLE, Spain (Reuters) - Rafa Nadal ended a relatively barren year on a thrilling high when he battled back from a set down to beat Argentina's Juan Martin Del Potro and secure Spain's fifth Davis Cup tennis triumph Sunday.
After demolishing Juan Monaco in Friday's singles, the 10-times grand slam champion, overshadowed by world number one Novak Djokovic in 2011, had a tougher time on his beloved clay against an inspired Del Potro but rallied to snuff out the South American nation's bid for a first title in their fourth final.
The lanky Del Potro, nicknamed the tower of Tandil after his birthplace, had fully recovered from his five-set defeat by David Ferrer in Friday's singles and delighted the raucous away fans with a fearsome display of hitting to take the first set.
However, he ran out of steam at the crucial moment and lost the fourth-set tiebreak 7-0 in a 1-6 6-4 6-1 7-6 defeat that sparked wild celebrations among the home support at the purpose-built indoor court at Seville's Olympic Stadium.
Nadal's victory, his 16th in 16 Davis Cup singles matches on his favoured surface, gave Spain an unassailable 3-1 lead in the best-of-five tie as the favourites secured their third title in four years.
It was their second Davis Cup final victory over Argentina following their success in Mar del Plata in 2008 and they also claimed the enormous trophy, known in Spanish as the 'salad bowl', by beating Czech Republic in Barcelona in 2009.
"This is a very good way of finishing after a long year," Nadal, who won just three singles titles in 2011, his fewest number in seven years, told a news conference, before announcing that he was not planning to play Davis Cup in 2012.
"Next year, since it's an Olympic year, my participation in the Davis Cup is impossible," said the 25-year-old, who has repeatedly called for the crowded tennis calendar to be overhauled.
"For the time being, let's enjoy today. It's not the most appropriate time to talk about the future but of course next year I will not play the Davis Cup."
NERVOUS START
Argentina were 2-0 down after Friday's singles before David Nalbandian and Eduardo Schwank thrashed Feliciano Lopez and Fernando Verdasco in Saturday's doubles to keep the tie alive.
Given the enormity of the task he faced -- Nadal has only lost one best-of-five match on clay in his career -- it was no surprise when Del Potro made a nervous and error-strewn start to the match.
He twice double-faulted in the opening game, the second time on break point, to gift Nadal the lead but broke back immediately when the Spaniard missed an attempted drop shot and held serve for a 2-1 lead.
A section of rowdy light blue and white-clad Argentina fans held up play several times on Nadal's next service game and Del Potro and captain Tito Vazquez had to make the first of several appeals for calm.
Nadal was also showing signs of nerves and his opponent took full advantage, thumping winners with his fearsome forehand and breaking the Mallorcan's serve twice more for a 5-1 lead before taking the set with a backhand pass.
It was the first time Nadal had dropped a set in 10 Davis Cup singles matches since September 2008.
HUGE ROAR
Nadal's family and team mates were looking edgy at the side of the court but world number two rediscovered his form in the second set and a huge roar echoed around the giant arena when he converted a smash and broke to level the match.
The Spanish fans leapt to their feet again when Nadal broke for a 5-1 lead in the third set with a brilliant whipped forehand pass on the run that curved just inside the line and he served out to love to move ahead for the first time.
Del Potro looked beaten when Nadal claimed an early break in the fourth set but the 2009 U.S. Open champion battled on to force the tiebreak.
That marked the end of his brave challenge, though, and he failed to win another point.
Nadal sealed victory with a trademark forehand winner down the line before embracing his opponent at the net as his team mates danced on the nearby court and Spanish King Juan Carlos celebrated in the stands.
"The very little energy I had, I had to put it in the court with the help of the crowd, with the help of my team," Del Potro told a news conference.
"I felt that once again I was very close to winning," the 23-year-old added.
According to Davis Cup rules, if the tie is decided after the fourth rubber and that match lasts at least four sets, the final singles is not contested.
(Additional reporting by Inmaculada Sanz in Madrid, editing by Clare Fallon and Ed Osmond)