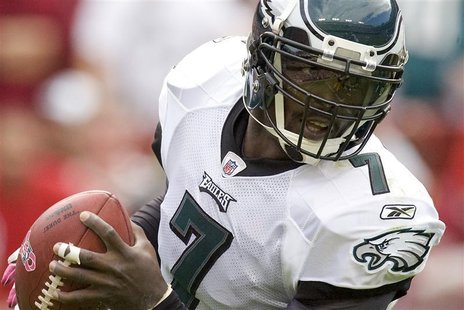 (Reuters) - Philadelphia Eagles quarterback Michael Vick practiced on Monday and said he expects to play on Sunday against the Miami Dolphins after missing three games with broken ribs.
Vick fractured two ribs last month and the Eagles (4-8) have gone 1-2 during his absence, slipping further out of the National Football League's playoff picture.
"This Sunday I'll definitely be out there. I feel like I've got to be accountable for my team. I want to be there," Vick told reporters.
"I just wish I could have been out there the last three weeks, but it just hasn't panned out that way. We've got to keep our heads up and keep moving in the right direction."
While Vick has shown glimpses of his top form this year, he has battled injuries during the 2011 campaign and been a shadow of the most valuable player candidate and Pro Bowl starter of last season.
In nine games, Vick has thrown for 2,193 yards, 11 touchdowns and 11 interceptions.
The Eagles entered the season saddled with Super Bowl expectations after adding six former Pro Bowlers to a roster that already included Vick, LeSean McCoy and DeSean Jackson.
The team's disappointing NFL season has put the spotlight on longtime Eagles coach Andy Reid and whether he would return for a 14th season, but Vick said the coach was not to blame.
"We all have watched the games, we've all seen it, we were all a part of it, we know the reasons why we didn't pull them out and it wasn't coach's fault," said Vick.
"To hear that, it kind of upsets me, but I'm in such a good mood right now, I really won't get in to the logistics of everything. I just know everything is going to be fine."
(Reporting by Frank Pingue in Toronto; Editing by Julian Linden)