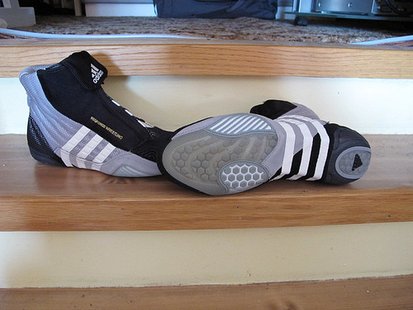 COLDWATER, MI (WTVB) - In Branch County high school sports, in girl's basketball from Saturday night, Quincy dropped its Big Eight Conference opener with a 50-to-25 loss at Jonesville. The host Comets took control early with a 20-to-4 lead after the first quarter. Regen Stahl led Quincy with 7 points while Sarah Ward had 9 rebounds. Quincy, now 0-and-4, returns to action tomorrow night at home against Homer.
In wrestling on Saturday, Coldwater had a 1-and-4 mark at the Brooklyn Columbia Central Invitational. The Cardinals had a win over Marshall with losses to Ida, Mason, Columbia Central and Constantine. Posting winning records for Coldwater were Jerry Schultz at 4-and-1, along with Brandon VandenHout and Joshua Powers, both 3-and-2. The Cardinals return to the mats on Wednesday, taking on Harper Creek and Marshall in a quad meet at Harper Creek.
Also on Saturday, Union City competed at the Sturgis Invitational with an 0-and-4 record with losses to Sturgis, Plainwell, Quincy, and Paw Paw. Going undefeated on the day for the Chargers in four matches was Jared Shepard
On tonight's high school schedule, in boy's basketball, it's a Branch County matchup as Coldwater hosts Quincy. We'll have the game on AM-1590 and the audio streaming on-line at wtvbam.com with our coverage getting underway at 7 o'clock. The varsity action is scheduled to tip-off at 7:30 following the j-v game at 6 p.m. There's no freshman game.
Also tonight in boy's basketball, it's another matchup of county rivals as Bronson plays at Union City. In girl's basketball tonight, the Coldwater freshman team plays at Angola. And in gymnastics, Coldwater opens its season tonight at Jackson Lumen Christi.
Today on the Coach's Corner, it's Coldwater girl's basketball coach Terry Andress.
In middle school sports, in boy's basketball on Saturday, in the season ending "B" team tournament at Battle Creek Lakeview, the Coldwater Eighth grade team lost its first round game to Endeavor Academy 34-to-18. Jacob Wilber had 7 points while Austin Keegan had six rebounds. Coldwater won the seventh grade game against Endeavor with 9 points for Austin Butler.
In the "A" team tournament at Battle Creek Harper Creek, the Coldwater 8th grade team between Battle Creek Gold 48-21. Spencer Burns was the leading scorer with 12 points, while Austin Krezminski and Nathan Waterbury each had 5 rebounds, and Sean Delaney had 3 steals. The 7th grade team also won, and both teams face Lakeview this afternoon at Harper Creek Middle School.
A final postseason award for some area boys soccer players and their coaches. The Battle Creek Enquirer newspaper Sunday announced their "All Enquirer Team". Coldwater seniors Kaliel Alisaid and Keven Fishero made the team, as did Quincy seniors Luke Haberl, Nekota Cartwright, and Colin Albright. Honorable Mention for Coldwater are Zakria Haggagi, Patrick Christopher, Yousif Aljabaly, Mohamend Aljabaly, and Robert Hawley. Honorable Mention for Quincy are Ryan Williams and Dakota Finley. Selected as Co-Coaches of the Year by the Enquirer sports staff are Quincy's Tim Hart and Coldwater's Ken Delaney.