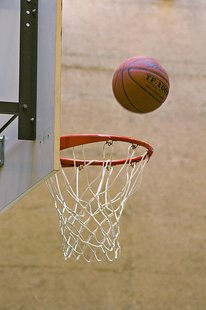 COLDWATER, MI (WTVB) - In Branch County high school sports last night, in boy's basketball, the schedule featured a pair of cross county matchups and we begin in Coldwater, where Quincy outlasted the host Cardinals in overtime with the Orioles winning 47-to-45 in a game you heard here on AM-1590.
The contest was tied at 40 at the end of regulation time with Quincy then scoring what proved to be the deciding bucket on a layup by Andrew VanBuskirk with 12 seconds remaining in the extra period to put the Orioles up 46-to-45. Coldwater had a 3-point try go in-and-out in their final possession and Quincy then added a free throw in the final seconds to close out the victory.
Alex Ditton paced the Orioles with 16 points while Luke Haberl had a double-double with 14 points and 13 rebounds with Haberl being named our McDonald's Player of the Game for Quincy. Mitch Galloway had a team-high 13 points for Coldwater while Skylar Watson had a double double with 12 points and 10 rebounds with Watson earning our Player of the Game honors for the Cardinals.
After the game, Quincy Coach Ritch Adams told us he loved the aggressive defense his team played all night long. On the other side, Coldwater Coach Brien Kelly admitted it was a frustrating defeat, saying the intensity was there for the Cardinals but not the execution.
There were 9 leads changes and 7 ties in the game as Quincy improved to 2-and-1 while Coldwater slipped to 0-and-3. The Cardinals return to action Friday night at home against Kalamazoo Loy Norrix while the Orioles open Big Eight Conference play on the road against Jonesville
In last night's junior varsity game, Coldwater beat Quincy 38-to-20. Brady Duke led the Cardinals with 8 points while Collin Palmer had 6 points for the Orioles. There was no freshman game.
In last night's other cross county contest, Union City was a winner at home over Bronson 48-to-37. The host Chargers had a 29-to-11 lead at the half and pulled ahead 42-to-18 after three quarters before the Vikings cut the final deficit to 11 points. Adam AcMoody had a game-high 20 points for Union City. Sean Czajkowski had 18 points for Bronson. The Vikings are now 1-and-2 while the Chargers improved to 1-and-1.
Also last night, Tekonsha lost 70-to-61 at Athens. Evan Calhoun led the visiting Indians with 29 points while Andrew Aldrich had 14 points and 10 rebounds and Jared Coney added 10 points. Tekonsha is now 1-and-2.
Last night in girl's basketball, the Coldwater freshman team lost 39-to-16 at Angola. Mackenzie McGuire led Coldwater with 6 points.
And in gymnastics, Coldwater had its season opener last night and the Lady Cardinals dropped a close match at Jackson Lumen Christi with the Titans coming out on top 122.025 to 121.35. Coldwater has to earn a minimum team score of 120 at four different meets during the season to earn the right to compete at the team regionals in March. There were four individual qualifiers on the vault for Coldwater to make the event the highest team score of the evening for the Lady Cards. Newcomer Jenny Daoud earned her first ever regional qualifier with a 7.9 score and returners Becca Harmon, Ellie Ohm and Kylie Dudek also collected qualifiers. On the uneven bars, Dudek led Coldwater with the high score for the meet at 9.1.
On the balance beam, Dudek, Ohm and Harmon all earned qualifying marks. And on the floor exercise, Dudek was the lone individual qualifier on the event for Coldwater. It capped her performance with enough points to put her in first place in the all-around category. The Lady Cardinals travel to Adrian on Thursday for their first conference triangular meet against Adrian and Sturgis.
On tonight's high school schedule, there's a Branch County matchup in girl's basketball as Coldwater hosts Bronson. We'll have all the action on the on the radio and the audio streaming on-line at wtvbam.com with our live coverage beginning at seven o'clock. The game tips off around 7:30 following the j-v contest scheduled for six p.m.
Meanwhile, at 4:30, the Coldwater boy's freshman team with host Fremont, Indiana. Also tonight in varsity girl's basketball, it's Quincy at home against Homer while Union City hosts Reading.
Today on the Coach's Corner, it's Quincy girl's basketball coach Larry Moore.
In middle school sports, in eighth grade boy's basketball, the Coldwater "A" team lost to Battle Creek Lakeview 52-to-28 in the second round of their season ending tournament at Harper Creek. Nathan Waterbury led Coldwater in scoring with 9 points while Brandon Lewis had a team-high 6 rebounds.
In the "B" team tournament at Battle Creek Lakeview, it was Coldwater over Gull Lake 25-to-24. Jesse Miller and Baylee Hoag had six points apiece with 8 rebounds for Jacob Osborne and 5 steals for Jake Pelham.
Also last night, in the St. Joseph County tournament, the Bronson eighth grade team beat Constantine 33-to-26. Kyle Roberts had 13 points and 6 steals while Daniel McMichael added 12 points and 9 rebounds. The Bronson seventh grade team defeated Mendon 31-to-10 with 12 points for Carlos Reyes.