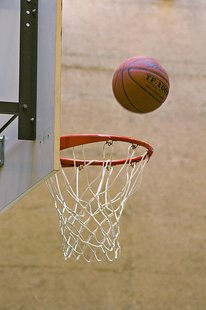 COLDWATER, MI (WTVB) - In Branch County high school sports, it was a busy night in boy's and girl's basketball. In boy's hoops, the Big Eight Conference season opened and Quincy fell at Jonesville 58-to-42. The visiting Orioles were down 29-to-19 at the break and the Comets continued to pull away in the second half. Luke Haberl led Quincy with 17 points and 8 rebounds while Alex Ditton added 15 points. The Oriole's overall record is 2-and-2.
Union City started Big 8 play at home and the Chargers defeated arch-rival Athens 70-to-59. Union City led 39-to-23 at the half and was up 60-to-39 heading into the fourth quarter. Adam AcMoody dropped in 26 points for the Chargers and also had 5 assists and 4 steals. Zach Smith added 17 points and Emmett Fraley had a double-double with 11 points and 13 rebounds as Union City improved to 2-and-1.
Also last night, Bronson had a strong fourth quarter to help the Vikings win at Mendon 51-to-38. Bronson led 21-to-14 at the half and then the Hornets cut the deficit to 5 after three quarters before the Vikings won the final period 18-to-10. Mark Robinson had a game-high 15 points for the Vikings while Austin Hostetler added 10 points. Bronson is now 2-and-2 overall and 1-and-1 in the St. Joe Valley.
And Tekonsha was a winner at Burr Oak 59-to-47. The visiting Indians were led by Austin Aldrich with 13 points and 15 rebounds while Evan Calhoun had 11 points and 6 assists and Jared Coney also had 11 points. Tekonsha improved to 2-and-2 overall and 1-and-1 in the SCAA.
Last night in girl's basketball, Bronson lost at Mendon 48-to-22. Brooke Pyles had 12 points for Bronson, which slips to 1-and-5 overall and 0-and-2 in conference play.
In reserve basketball, it was Coldwater vs. Kalamazoo Loy Norrix with the boy's games at Loy Norrix and the girl's contests in Coldwater. The host Knights swept the boy's games. In the junior varsity action, Coldwater lost 39-to-35 with 7 points apiece for Lucas Stempien and Grant Maurer. Loy Norrix won the freshman game 46-to-39. Zach DeMeester had 16 points for Coldwater.
In the girl's games, it was a split as Coldwater took the junior varsity contest 56-to-38. Michaela Gillette had 14 points while Carlee Smoker had 12 points and 10 rebounds and Haley Reincke had 11 points and 9 rebounds. Loy Norrix won the freshman game 48-to-20. Mackenzie McGuire had 6 points and 6 steals for Coldwater while Paige O'Grady also had six points and Shelby Bowers had a team-high ten rebounds.
Last night in gymnastics, Coldwater had its first conference meet of the season competing against Adrian and Sturgis at Adrian and the Lady Cardinals finished in third place with Sturgis second and the host Maples first. Coldwater opened the evening on the bars and Kylie Dudek was her team's lone qualifier with a third place showing. Then on the vault, Dudek earned first place with a qualifying score of 9.2. Sierra Crist also posted a regional qualifying score. Next up was the floor exercise and Dudek was the lone qualifier, winning the event with a 9.05 score. And finally on the balance beam, Dudek and Becca Harmon each collected their second individual qualifiers in as many meets with Dudek's performance nearly flawless with a 9.4. Dudek dominated the all-around category with a first place total of 36.125, a full two points ahead of the competition.
Coldwater is hosting a youth gymnastics clinic next Thursday. All ages are welcome and you can call the CHS Athletic office or coach Kim Nichols for further information.
On tonight's high school schedule, there's a boys-girls varsity basketball doubleheader in Coldwater with the Cardinals hosting Kalamazoo Loy Norrix. We'll have both games on the radio and the audio streaming on-line at wtvbam.com with our live coverage beginning around 5:30 following the Evening journal. The girl's contest tips-off first at 5:45 with the boys scheduled to start at 7:15.
Elsewhere tonight, in girl's action only, it's Quincy at Concord while Union City hosts Homer. Also, Tekonsha is at home against Burr Oak.
Today on the Coach's Corner, it's Coldwater boy's basketball coach Brien Kelly.
In middle school sports, in boy's basketball, the Coldwater seventh grade "A" team beat Harper Creek 49-to-32 for third place in the season ending tournament at Harper Creek.
In the eighth grade game last night , Coldwater lost to Marshall 41-39. Nathan Waterbury led the scoring with 18 points, Austin Krzeminski, and Brandon Lewis each had 5, Carson Burgess and Brendan Spangler scored 4 each. Lewis had 5 rebounds and Luke Beckhusen had two steals. The team finished the season with an 8-4 record.
Also, Bronson swept a pair of games at home against White Pigeon. The host Vikings took the eighth grade contest 28-to-27 with 14 points and 13 rebounds for Daniel McMichael. Bronson won the seventh grade game 42-to-9 with 25 points for Justin Robinson.
And Quincy's seventh and eighth grade teams have advanced to tomorrow's title games of their Big 8 tournament by picking up wins on Wednesday night. In the eight grade action, Quincy beat Reading 45-to-31 while the Orioles took the seventh grade contest over Homer 35-to-19.