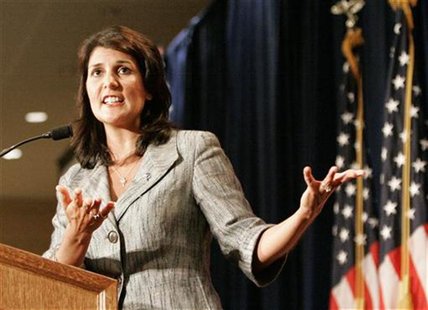 By Steve Holland
GREENVILLE, South Carolina (Reuters) - Republican presidential candidate Mitt Romney warmed up his tepid campaign in South Carolina on Friday with the endorsement of Republican Governor Nikki Haley, winning a key ally for a tough fight.
"We've been hoping for this for a long, long time," Romney said at a campaign event in Greenville with the Tea Party champion Haley standing at his side as he started a two-day tour of the early-voting state.
Romney has been lagging in South Carolina and his backers in the state have been urging him to campaign here more frequently to compete with rival Newt Gingrich, who has been leading in polls of the state's Republicans.
The state is critical on the political calendar. South Carolina holds the first primary in the South on January 21, the third contest, following Iowa on January 3 and New Hampshire on January 10.
While Romney is favored to win New Hampshire, it would be a nightmare scenario for him to lose both Iowa and South Carolina with the winner likely to have important momentum going into the January 31 primary in Florida, which could crown the ultimate nominee.
Romney has had difficulty in appealing to conservatives, particularly those who make up the lion's share of the Republican community in South Carolina. Haley could prove to be a valuable ally.
Haley, an Indian-American, was elected in 2010 as South Carolina's first female governor with the strong backing of Tea Party champion Sarah Palin. Though her popularity has sagged a bit in recent months, her endorsement was still coveted by Republican presidential candidates.
Haley told reporters she believes a spirited campaign of appearances and TV ads would turn around Romney's fortunes in the state. She said South Carolina voters are not concerned about Romney's Mormon religion.
"When it comes to Mormon faith, I will tell you that whatever the person's faith, that's not going to be an issue for my constituents, and the reason I know why is because South Carolina just elected a 38-year old Indian female governor," she said.
She told the crowd she settled on Romney after listening to all the contenders and determining he had the best qualities to be president, including her No. 1 priority: "I didn't want anyone tied to Washington."
Romney, who had campaigned for Haley when she won a come-from-behind victory as governor in 2010, said he hoped to emulate Haley's come-from-behind performance in South Carolina.
"I see every state as a battlefield," Romney said. "There's no place I can look at and say, 'this is going to be easy, I don't need to worry about that.'"
After days of hurling sharp attacks at chief rival Gingrich, Romney renewed his focus again on Democratic President Barack Obama and his leadership of the U.S. economy.
"This is a failed presidency," he said.
Democrats were eager to return fire, seizing on a comment Romney made earlier in the day in Sioux City, Iowa, to workers at a steel plant.
Romney, talking about popular entitlement programs, said until he got into government, "I have to admit I didn't know all the differences" between Medicare, a health insurance program for the elderly, and Medicaid, which helps the poor.
The Democratic National Committee, which is on a daily mission to disrupt Romney's campaign, quickly accused the wealthy former venture capitalist of being out of town with everyday Americans.
"There is not one thing in Mitt Romney's entire history that shows one bit of concern for middle-class Americans," said DNC Chair Debbie Wasserman-Schultz.
Romney told reporters on his plane that he had made a "self-deprecating understatement" and that in his younger days he had done some consulting work for various health care companies.
(Reporting By Steve Holland, editing by Christopher Wilson)