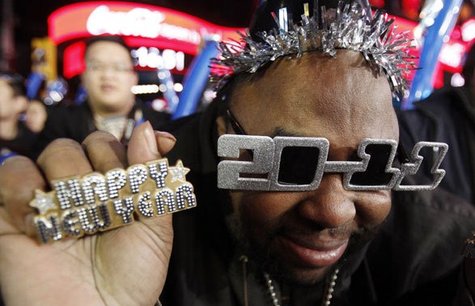 (WKZO) -- Proving to be a year full of incredible headlines around the world, Kalamazoo contributed its fair share of notable news in 2011. Whereas other top 10's offer a predictable compilation of the leading stories in 2011, WKZO is giving you the most popular stories from this year according to reader viewership. This top 10 list is not what WKZO champions as the pinnacle news stories of 2011. Instead, the stories below are based on what was searched most by you the WKZO viewer.
10. Henslee, Second Victim Shot, Cousin in Custody
A Van Buren County Sheriff's Department press conference Friday morning confirmed what Amy Henslee's family has previously claimed: Amy's body and the body of another woman were found buried near the trailer of a cousin on CR 687, a few miles from the Henslee home in Hartford Township. Click to read full article.
9. 'Operation Historic Moment' Launches at WMU
Western Michigan University President John Dunn opened the announcement: "The largest donation ever given to a Michigan college or university has been made to Western Michigan University." The donation is the 15th largest cash gift in the history of American higher education. Click to read full article.
8. WMU Coach Cubit on CMU Series: "I'll Take Care of It This Year."
Western Michigan head coach Bill Cubit is calling the win this year against rival Central Michigan. Cubit told crowds Tuesday, at "Football Night in Kalamazoo", that this year, in regards beating Central, "I'll take care of it." Click to read full article.
7. West Michigan, Battle Creek Continue Clean Up Following Storms
There are plenty of survival stories from Sunday's storms that rocked west Michigan. In fact, officials say it's a miracle that there were no deaths or serious injuries given the severity of the storms. The Fritz Family Hog farm near Vicksburg, took a beating, losing a grain silo and the roof on a barn. Click to read full article.
6. Gun Lake Casino Overwhelmed by Applications
The Gun Lake Casino, just south of Grand Rapids, opens next month and reports it is overwhelmed by the amount of applications it's received. Casino officials say they've already hired 600 workers and will be putting another one-hundred people on the payroll after they've gone through the proper dealer training. Click to read full article.
5. Detroit Tigers vs. Texas Rangers, Game 5 ALCS
After Wednesday's extra inning loss to the Rangers, the Tigers are now 1 loss away from being eliminated from the playoffs. Nelson Cruz hit his 2nd extra inning homerun of the ALCS, capping off a 4 run 11th inning for the Rangers, securing a 7-3 victory in Game 4. The Tigers look to extend their postseason run Thursday Afternoon as the Tigers and Rangers battle in Game 5. Click to read full article.
4. Memorial Service for Officer Zapata at Miller Auditorium in Kalamazoo
They held the funeral of Kalamazoo's First Public Safety officer to be killed in the line of duty Tuesday. They called Eric Zapata's name for the final time over the police radio as services for the slain Public Safety Officer got underway Tuesday morning at Miller Auditorium. Click to read full article.
3. Jury Finds Foley Not Guilty
Tom Foley is a free man. After serving 20 months in prison following his first degree murder conviction in the death of his wife Dee Dee in March of 2009, a Branch County Circuit Court jury Saturday afternoon ended Foley's retrial by finding him not guilty. Click to read full article.
2. Man accused of selling U.S. spy plane on EBay
A Philippine man was arrested and charged with illegally selling an unmanned U.S. spy plane known as the Raven, the U.S. Attorney's Office in Tampa said on Monday. Click to read full article.
1. Catholic bishop gets deal to avoid criminal charges
The top Roman Catholic official for the Diocese of Kansas City-St. Joseph agreed on Tuesday to have his actions monitored by prosecutors in order to avoid criminal charges for failing to turn in a priest suspected of creating child pornography. Click to read full article.