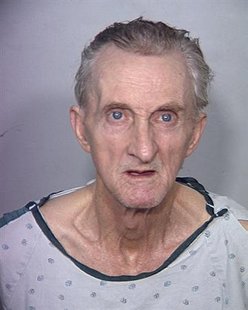 By Keith Coffman
DENVER (Reuters) - A trucker suspected in a series of rapes and murders of prostitutes across the United States has been arrested in Las Vegas, where he allegedly confessed to one of the murders, Denver police said on Thursday.
Chester Leroy Todd, 66, has been a fugitive since 1996 when a first-degree murder warrant was issued for him in the strangulation death of Sherri Majors, Denver Police spokesman Sonny Jackson said.
The 27-year-old woman's beaten and strangled body was found adjacent to railroad tracks in downtown Denver on March 17, 1996, a day after witnesses at a pool hall saw her accept a ride from Todd.
His abandoned tractor-trailer rig was discovered at a Sioux City, Iowa truck stop days later. Evidence recovered from the truck linked Todd to Majors' murder, police said.
In 2006, the FBI's Violent Criminal Apprehension Program issued a bulletin saying the agency was compiling a list of suspects in a series of rapes and murders of prostitutes who frequented truck stops in Texas, Arkansas, Oklahoma, Mississippi, Indiana and Pennsylvania.
Todd was the only one named as a suspect in the crimes.
According to a Las Vegas police report, Todd, who was living under the alias James Diamond, was treated at a Las Vegas hospital last month when he allegedly "confessed about a homicide in Denver, Colorado around 1996" to a person at the hospital.
Hospital security alerted Las Vegas police, who questioned Todd. Once police determined his identity, a records search showed the outstanding warrant for the Denver murder and Todd was arrested.
Todd is being held without bond in Nevada pending extradition to Colorado, which could take up to 90 days depending on whether he fights extradition, said Lynn Kimbrough of the Denver District Attorney's Office.
(Additional reporting by Timothy Pratt in Las Vegas; Editing by Dan Whitcomb and Greg McCune)