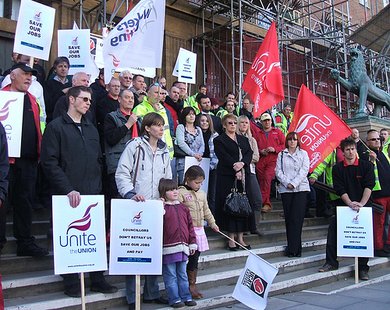 MADISON, Wis. (WTAQ) - An overflow crowd jammed a State Capitol hearing room Tuesday to have their say on Governor Scott Walker's plans to balance the current state budget.
Security was tight as those waiting to speak spilled out into a hallway – and hundreds of people filled the Capitol's Rotunda to watch the early proceedings on TV. And thousands were expected as the day went on.
Joint Finance Committee co-chairman Robin Vos said he was committed to giving the public their say on the controversial package – even though it appears the outcome's already set.
Spokesmen for the leaders of both houses confirmed during the hearing that they have the votes to pass Walker's plan to cut benefits and bargaining power from public unions. The budget package has a host of other measures as well, but the union provisions have sharply divided Wisconsinites.
Assembly Democrat Tamara Gribsby of Milwaukee told the finance panel she thought the budget bill was about financial matters – and not policies.
Walker has said his union proposals would help both state and local governments save millions. Most public union members would have to pay more for their pension and health insurance, and they can only bargain for pay raises limited to inflation unless voters approve higher raises.
Meanwhile, some streets in downtown Madison were closed late in the morning to accommodate a noon hour rally by protestors against Walker's union provisions.
Public union workers, educators, and UW students chanted "union busting has got to go."