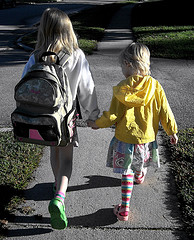 COLDWATER (WTVB) - Coldwater Superintendent of Schools Dr. Tina Kerr says it would be easy to panic when looking at this week's 2012 budget proposal released in Lansing by Governor Rick Snyder. But Kerr says her administration and school board will do everything they can to lessen the impact on kids in the classroom from the funding cuts that will be coming this year.
Kerr says a preliminary examination of the 425 dollar per pupil reduction in funding plus other repercussions of the Governor's spending plan add up to a major hit, just off the top, it's about 1.4 million for Coldwater Schools combined with 635-thousand in reductions because of retirement changes, puts it up in the 2-million dollar range right now.
Kerr says what programs and services will be impacted locally by the reduction in funding from the state will require a very careful examination of all the options available and where they start slashing first will begin with a philosophy of keeping the cuts furthest away from the children as much as possible.
The governor's plan is to slash K-12 funding statewide by 4.9%. Don Noble with the Michigan Education Association says it will greatly impact schools in Michigan with teacher layoffs, class sizes going up, and program eliminations in areas like fine arts, band, and music.