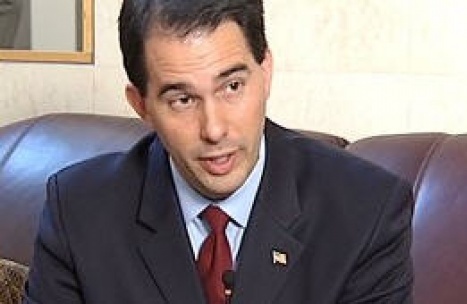 MADISON, Wis. (WTAQ) - Governor Scott Walker says the next state budget will have over a billion-dollars less in state aid to local governments and schools.
The Republican governor will unveil his fiscal plans for the next two years Tuesday. He told Mike Gousha's statewide TV show Sunday night that schools would get the brunt of the cuts.
Education groups have warned that Walker will slash $900 million from Wisconsin's 428 school districts over the next two years. Walker told Gousha the number was true. Educators also warned that Walker would reduce the state-mandated school revenue limit by $500 a child. That's so school boards don't jack up local property taxes to make up for the lost aid.
The governor also repeated that lawmakers need to pass the current budget repair bill, so local governments and schools can deal with the upcoming cuts in state aid by controlling their labor costs.
That bill has been the subject of massive protests, because it would virtually end collective bargaining privileges for most public unions. Many unions have said they'll accept Walker's plan to make them pay more for their health insurance and pensions. But Walker questions their sincerity, by pointing out that a number of local unions have scrambled to approve new contracts that don't include the financial concessions.
Rick Badger of the American Federation of State, County, and Municipal Employees says the union locals are just following the current law.