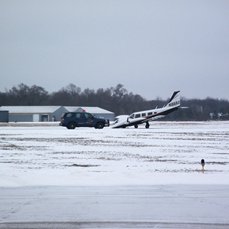 COLDWATER (WTVB) - Three people escaped injury late yesterday morning when a small plane made an emergency landing at the Branch County Memorial Airport in Coldwater. State Police say the twin-engine Piper's front landing gear failed and the pilot made a soft landing on the craft's two rear wheels. The nose of the aircraft was damaged and the two front props were also bent.
The plane is owned by Dwight Hall of Coldwater and Millenium Enterprise on Dayburg Road. Trooper Jim Hurley said the pilot from Portage and two mechanics on board were coming from Kalamazoo to Coldwater to service another plane when they discovered the front wheel wouldn't come down, possibly because of an icing problem.
They circled the airport for about a half-an-hour before deciding to bring it in for a landing, which happened around 11:45 this morning. The Federal Aviation Administration will be investigating.