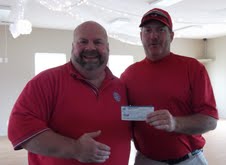 COLDWATER, MI (WTVB) - On the local sports scene, in baseball, the fundraising campaign for the renovation of Lowe Field has received another major boost with the presentation of a check for fifteen thousand dollars from the Coldwater American Amateur Baseball Congress to the Coldwater Sunrise Rotary Club, which is spearheading the project.
The overall effort that was started by the Club in 2007 included renovation of the softball complex, which was completed a year ago in June. Coldwater High School Baseball Coach Randy Spangler said the C-A-A-B-C raised the money for their latest donation to the project with a youth basketball tournament and draw down raffle earlier this year. Spangler said it's hoped the Lowe Field renovation, which will include stadium seating along with a new press box and concession stand, can get started yet this year….
Next week, Coldwater will host Sandy Koufax and Mickey Mantle district tournaments beginning on Thursday and later this month at Lowe Field, for the 42nd time, Coldwater will host the Mickey Mantle North Central Regional.
In summer league baseball yesterday, the Coldwater Sandy Koufax National League Red team split a doubleheader at home against Quincy. Before the twinbill, the two teams finished up a contest from Wednesday that was called because of darkness with the score tied at 5-to-5. Coldwater wound up the winner by a score of 8-to-5. Dylan Molnar picked up the victory while Jesse Miller had 2 hits. Then in the doubleheader, Quincy took the opener 8-to-1. Justin Panarisi suffered the loss on the mound for Coldwater while Zach Vandepuyl had 3 hits.
In Game Two, Coldwater beat Quincy 10-to-3. Jesse Miller was the winning pitcher. Spencer Burns had a home run while Dylan Molnar had two hits.
Coldwater improved its record to 14-and-6 and the Red team returns to action next Thursday with a doubleheader at Sturgis.