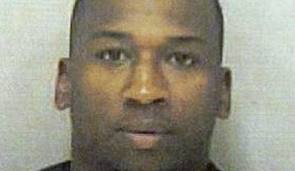 GRAND RAPIDS, MI (WKZO) -- A suspected mass murderer has taken his own life, after he was cornered in a home on Rickman in Grand Rapids last night. Thirty-four year-old Roderick Dantzler was reportedly bi-polar, just out of prison and off his meds when he allegedly killed his daughter, a girlfriend and two of her sisters. Then Police say he went over to another ex-girlfriend's house, and shot her and two others in the home to death, including a second child.
Friends and neighbors are devastated but not surprised, saying that Dantzler was always a menace to society. Chief Kevin Belk says after they tracked the suspect down, they were involved in running gun battle thru the city and onto I-96.
He wounded two other people who got in his way and shot up a squad car on Division. The chase ended when his vehicle, its tires and windows shot out, crashed and he fled on foot, holing up in a nearby home, taking hostages.
Chief Belk says they tried to talk him out, but he chose instead to shoot himself in the head. Autopsies are planned, and the investigation will be conducted to verify all their facts. The families will mourn and bury their dead, and everyone will wonder what made him snap.