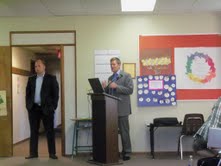 COLDWATER, MI (WTVB) - There will be no change in the leadership of the Coldwater Board Of Education. The board held their annual organizational meeting last night and elected to keep Robin Iveson as President, Jim Hiscock as Vice President, Jeanne Milnes Secretary and Clair Dean Treasurer. The board also filled their standing committees and set the board meeting dates.
In other action last night, the board voted to accept a proposal from Technical Energy Performance Group to develop an energy management system for the school district. The three point six million dollar plan would include lighting and mechanical upgrades that would be easy to maintain at a central location.
According to representatives of TEPG, everything is tied into one system and can be controlled from a website. Bonds would be paid back over a ten year period at a rate of two hundred and sixty seven thousand dollars a year from the districts sinking fund.
According to district Superintendent Dr Tina Kerr, the district would receive three hundred and seventy thousand in utility rebates which could then be used for technology upgrades. According to the project time line, one financing is in place, work could start in September and would be finished in early March