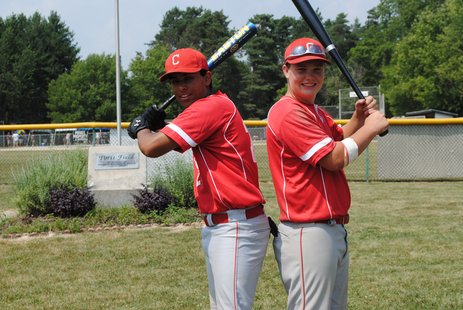 COLDWATER, MI (WTVB) - On the local sports scene, summer league baseball action gears up this week in Coldwater with Mickey Mantle and Sandy Koufax district tournaments starting on Friday. There are eight teams in each tournament. Coldwater doesn't have a team in the Mickey Mantle event since it gets an automatic berth every year in the North Central Regional, which will be held for the 42nd time at Lowe Field beginning July 21st.
Coldwater's Sandy Koufax American League team will be playing in the district at Borden Field at Heritage Park with the host Redbird's opening game scheduled for Friday afternoon at 12:30 against Homer. This past weekend, the Redbirds played in the 11th annual Ponderosa Classic inLansing and made it to the semi-finals, finishing with a 2-and-2 record.
In pool play on Friday, Coldwater started with a 10-to-2 loss to the Central Michigan Stars. Jordan Butler suffered the defeat on the mound. The Redbirds then bounced back to beatFlint12-to-0. Brayton Rzepka was the winning pitcher in the three inning mercy rule game, giving up three hits with 3 strikeouts and one walk. Michael Gillette had 3 singles, scored three runs and had an RBI. Brendan Spangler added 2 hits with 3 RBI'S while Austin Krzeminski had a 2 run homer.
Then on Saturday, Coldwater began with a 14-to-2 win over the Lansing Moose in another 3-inning mercy rule contest. Nick Shaw was the winning pitcher, giving up just one hit. Michael Gillette again had 3 singles. Brayton Rzepka added 2 singles and scored 3 runs. Austin Krzeminski and Jordan Butler added 2 hits apiece.
Then on Sunday, Coldwater fell in the semi-finals 13-to-7 to Shepard. Brycen Spangler took the loss. Brayton Rzepka led the Coldwater hitting attack, going 4-for-4 with a 3-run homer and 3 singles with 5 RBI's. The Redbirds will take a 31-7-and-1 record into the district tournament.
Also as part of the Ponderosa Classic, there was a home run derby contest on Sunday with Coldwater's Brendan Spangler and Jesse Mangat finishing first and second. Spangler hit three homes twice in the three preliminary rounds and Mangat hit three in one of his rounds to advance to the finals. Spangler set a new record for the event for total home runs with 11 while Mangat finished with 4 home runs in the derby.