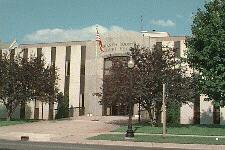 COLDWATER, MI (WKZO) Branch County Commissioners and County Administrator Bud Norman are laying the blueprints for spending plans for the next two years and in a worst case scenario, a total of 25 layoffs might be necessary keep the county budget balanced.
At Tuesday's Commission meeting, Commissioner Rod Olney, chairman of the Board's Finance Committee said they're doing everything they can to minimize employee cutbacks. The paired down spending plan is based in part on a major reduction in state revenue sharing for 2012 and a total elimination of the revenue sharing in 2013.
Olney gave credit to county department heads and workers for doing their best to be thrifty in the face of the challenging economic times. The combination of revenue sharing losses and keeping a recommended fund balance of between 10-to-15 percent would reduce expenditures by 1.6 million dollars compared the current 2011 budget.