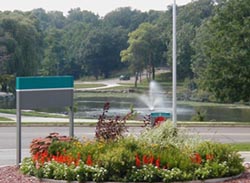 BATTLE CREEK, MI (WTVB) - It's not known what, if any, the long term impact will be on the Community Health Center of Branch County, but final approval has been given for a major hospital merger in Southwest Michigan. C-H-C through the years has had various affiliation agreements with Bronson Healthcare in Kalamazoo. Bronson and Battle Creek Health Systems announced takeover talks last December.
Now they have signed a deal and barring any unforeseen problems, Bronson will assume majority ownership on July 1. The Cereal City facilities will be renamed Bronson Battle Creek and Denise Brooks Williams will be its CEO.
It's the largest of a number of mergers and affiliations between the two big Hospitals in Kalamazoo and smaller health centers serving the region, and they are all taking place for the same reason. The main hospital gets access to a larger patient base, and small hospitals and their patients get access to facilities and expertise they couldn't afford on their own.
Bigger also means there are savings from economies of scale. Bronson will own 51% of the Battle Creek Corporation as of July 1. They say there will be no immediate changes, the transition will be gradual. Operational planning will take 6 to 12 months. There hasn't been any mention of job losses or new jobs created yet.