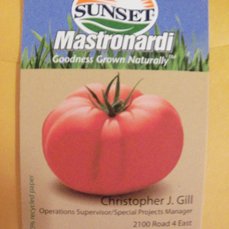 COLDWATER (WTVB) - Construction could begin in early spring for a multi-million dollar commercial greenhouse facility in Coldwater. The Coldwater City Planning Commission last night approved the site plan for the project which is expected to employ more than two hundred people.
According to Christopher Gill, Director of Greenhouse Operations for Kingsville, Ontario based Mastronardi Produce, the greenhouses will use the latest technology, including everything in the growing facilities being on hanging gutters, allowing the recirculation of all of the water that is used. It's sterilized and put back into the greenhouse.
The project will include 2 greenhouses, a main processing building, offices and a dormitory for migrant workers. The development in the city's southwest side industrial park will be built in two phases, the first includes one greenhouse, dormitory, offices and support complexes. The second growing facility is slated for construction in 2012. Gill said that they will hold a job fair in May or June.
Aaron Catlin, project engineer, told the group that there will be year round permanent jobs and local people will be hired. Crop workers, mostly migrants, will be used when local people are not available. The facility will initially grow tomatoes to be shipped all over the country to mostly chain stores who want fresh produce year round.
Catlin said that requests for construction bids have already gone out and local contractors will be considered. Branch County Economic Growth Alliance Executive Director Lisa Miller said that it was through partnerships with the Michigan Economic Development Corporation and Michigan Gas Utilities that they were able to bring the project to Coldwater. Prior to the site plan approval, the planning commission approved some amendments to current zoning rules defining terms and allowing commercial greenhouses in the industrial district. These amendments will be sent to the Coldwater City Council for approval at their next regular meeting.