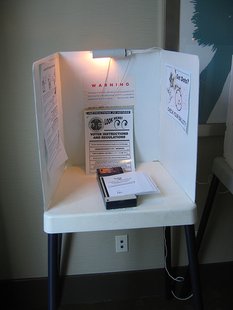 COLDWATER (WTVB) - Voters turned out in small numbers yesterday in Coldwater and Union City to easily approve sinking fund millage renewals while in contested school board races, the winners on Tuesday were Jim Hiscock and Nick Krzeminski in Coldwater and Thomas Bean and Keith Preston in Quincy.
In Coldwater, there was less than a ten percent turnout. Krzeminski led the way with 962 votes followed by Jim Hiscock with 858 votes. Losing out was Heather Peet with 701 votes. The sinking fund proposal was ok'd with 1,119 yes votes against 366 no votes.
There were no ballot issues in Quincy where four candidates were in the race for two seats on the school board. Thomas Bean had 179 votes followed by Keith Preston with 170 votes. Kevin Allman took third place with 110 votes, followed by Robert McCurley with 80 votes. TheQuincyturnout was only five percent.
In Union City, the two candidates for the pair of seats on the school board were unopposed while the sinking fund millage passed 253 to 95. No school elections Tuesday in the Bronson school district, which is on the fall election cycle.