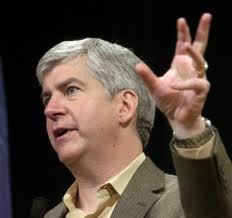 LANSING (WKZO) -- Governor Snyder says that the early approval of Michigan's 46-billion dollar budget proves that there's nothing that can't be achieved when everyone pulls together. Well at least republicans.
West Michigan Republican John Proos says they got it done on time and responsibly, and will enhance the state's reputation nationwide. But opponents say cuts to school funding and tax hikes to pensioners and Michigan workers will tarnish the state's reputation in other ways.
Kalamazoo School Superintendent Michael Rice told trustees last night that you can't cut school funding and expect education to improve. The School aid budget, including a $450 per pupil cut, was approved as one part of the overall budget yesterday, and is now headed for the Governor's desk.