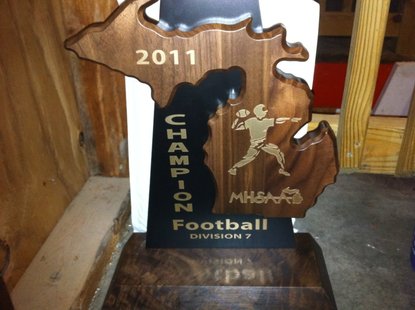 HS FOOTBALL
(at) Hudson 22, Union City 14 (Div. 7 District Final)
Union City's football season, along with the coaching career of retiring head coach Eric Tundevold, came to an end Friday night at Hudson, as the defending Division 7 state champion Tigers beat the Chargers 22-14 in a Division 7 District Final game at Hudson's Thompson Field. Hudson scored on its opening possession and had a 14-0 lead at halftime. The Chargers finally got on the board on its first possession of the second half, as Chris Maye took it to the house with a 79-yard run up the middle; the PAT kick failed. Hudson would tack on another score and a two-point conversion late in the 3rd to take a 22-6 lead. Union City's final score came late in the 4th quarter on a 31-yard Chris Maye run; he also ran in the two-point conversion. Hudson received the ensuing kickoff and was able to run out the clock for their 25th consecutive win. The 11-0 Tigers will take on either Detroit Loyola or Royal Oak Shrine next week in the Regional Finals. For Union City, whose season ends at 10-1, Chris Maye had 12 carries for 168 and both scores; our McDonald's Player of the Game also had 12 tackles on defense. Adam AcMoody was 7-for-14 passing for 128 yards, while Adam Reincke led the defense with 16 tackles.
There were some area teams that were able to hoist district championship trophies last night:
Division 3: Harper Creek 56, Mason 31
Division 4: Pennfield 14, Lansing Sexton 6
Division 4: Paw Paw 41, Plainwell 13
Division 5: Lumen Christi 28, Dundee 21
Division 8: Climax-Scotts 15, Pittsford 7
HS VOLLEYBALL
Coldwater def. Pennfield 3-2 (Class B District Final)
At Three Rivers, Coldwater won a Class B District championship by holding off Pennfield in 5 games. The Cardinals won the first two games by identical 25-19 scores before the Panthers took Game 3 25-21 and Game 4 25-23. In the deciding fifth game, Coldwater came out on top 15-5. For the match, BreeAnn Spangler led the way with 17 kills, 6 blocks, and 23 digs, while Lauren Outwater had 11 kills and 3 blocks. McKenzie Zinn had 23 digs to go with 7 kills and 2 blocks, and Ashley Burkhardt had 37 assists and 5 kills of her own. The Cardinals will take on the winner of the St. Joseph District Tuesday in a Class BRegional Semifinal at Otsego; Stevensville Lakeshore will take on Berrien Springs tonight for the St. Joseph District crown.
On today's schedule, it's the Michigan High School Athletic Association Lower Peninsula Cross Country Finals at Michigan International Speedway. Becca Schott will be Coldwater's lone representative in Division 2, while competing in Division 3 will be Bronson's Caleb McGuire; Riley Horn & Brett Palmer from Quincy; and Union City's Austin Coffman.