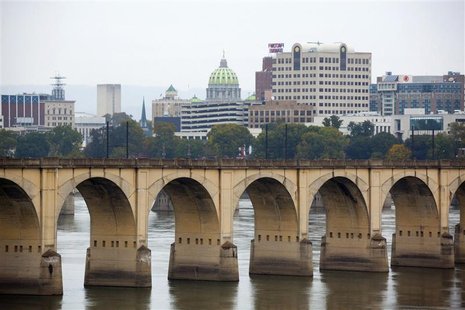 By Mark Shade
HARRISBURG, Pa (Reuters) - On the eve of a federal court proceeding to determine if Pennsylvania's capital city can proceed with bankruptcy to escape $317 million in debt, its mayor proposed a tax increase that would cost property owners another $100 a year next year.
During an hour-long speech to Harrisburg City Council, Mayor Linda Thompson unveiled her $55.5 million general fund budget for 2012 and said it included a $800,000 increase in property taxes.
"We are faced with challenges unlike the city has ever seen. This budget marks a new beginning," she said.
The mayor's proposed budget satisfies a legal procedural requirement for the city. But how it will ultimately be used by either a receiver -- if the state's selection of David Unkovic is approved -- or in bankruptcy proceedings has not yet been established.
Thompson appears to be banking on Unkovic's arrival.
"We now, indeed, manage our way out of financial distress and into long-term financial sustainability and solvency without necessity of the costly, embarrassing and destructive process of municipal bankruptcy," she said.
Harrisburg, a city of approximately 50,000, has not been able to agree on a way to escape its debt burden, which was primarily caused by the revamp of its incinerator.
That inability to find a solution forced Gov. Tom Corbett to sign a bill into law allowing for Unkovic's selection; it also forced Wednesday morning's hearing in U.S. bankruptcy court to determine the merits of the city's Chapter 9 filing.
"The biggest thing we've always been concerned about is getting a global solution with shared pain with a contribution from all stakeholders," said Councilman Brad Koplinski, one of the four city council members who voted to file for municipal bankruptcy protection.
"The best way to do that is through the bankruptcy process before a fair and impartial judge," he said.
Should Commonwealth Court agree to seat Unkovic as Harrisburg's receiver, Thompson said she believes it will help the city reach solvency more quickly because it would provide "stability."
"Now we have some surety in the direction in which we are going," she told reporters.
Thompson also said her budget proposal addresses the city's structural deficit, which is projected to rise by more than $7 million next year. It does not address the $317 million debt from the incinerator because, she said, she is expecting the receiver to solve that issue.
Instead of assuming Unkovic will be approved as Harrisburg's receiver, Koplinski said he had hoped the mayor would have agreed to work on bankruptcy.
"The biggest thing that the mayor could have said here was, 'Tomorrow morning I'm going to drop my concerns and problems and objection of bankruptcy,' and walk through this thing with us," Koplinski said.
With dozens of attorneys expected in federal bankruptcy Judge Mary France's courtroom at 9:30 a.m. on Wednesday morning, Harrisburg could finally begin to get answers as to how 2012 will play, and pay, out.
Unkovic, a public finance specialist and a graduate of the Harvard School of Law, has been chief counsel for Pennsylvania's Department of Community and Economic Development since July. Corbett appointed him on Friday.
"I work for the state and I am going to pursue this with great determination to come up with the best possible plan for the city," he said.
(Editing by Peter Bohan)