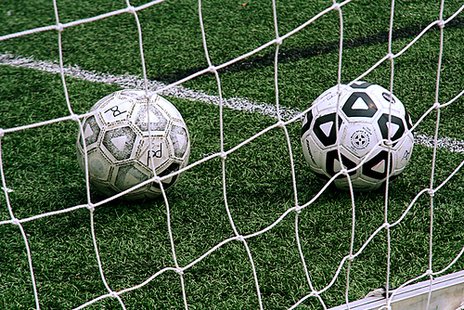 COLDWATER, MI (WTVB) - In Branch County high school sports last night, in boy's soccer, the Coldwater varsity team closed out its regular season with a with a 4-to-0 non-conference win in the rain at Three Rivers. Keven Fishero had 2 goals and an assist in the victory which improved the Cardinal's record to 13-and-7.
Zakria Haggagi and Ibrahim Ahmed also scored for Coldwater, while adding assists were Kaliel Alisaid and Jamal Mohsen. The Cardinals outshot Three Rivers 27-to-2 with goalkeeper Nicholas Padalino needing to only make one save. Coldwater opens up district play Tuesday at 4:30 p.m. against host Adrian.
The Coldwater junior varsity team also beat Three Rivers 4-to-1. Ismaeel Ahmed had 2 goals with one goal apiece for Eric Catlin and Addison Duda. Scout Case added 2 assists with one each for Andrew Barnes and Nooh Ajabaly. Ian Wright had 3 saves in goal for the Cardinals, who finished their season with an 8-7-and-1 record.
Also last night in soccer, Quincy saw its winning streak end at nine matches as the Orioles fell 1-to-0 to Jackson Christian in the ISL Championship game played at the AYSO Creal Soccer Complex in Coldwater. Quincy outshot Jackson Christian 14-to-8 in a physical game that featured 20 fouls on the visiting Royals and only 6 on the Orioles.
The schedule may have taken a bit of a toll on Quincy, playing its 3rd game in 3 nights. Dakota Finley had 5 saves in goal forQuincy. The Orioles, who were regular season co-champions in the Independent Soccer League, now have a record of 15-4-and-1 as they head into state tournament action next week, opening District play Monday at 4p.m. against Onsted at Onsted. Quincyis the defending District Champion.
Turning to volleyball, Coldwater won its SMAC East match last night at Harper Creek, beating the Beavers in three games, 25-16, 25-18, 25-12. BreeAnn Spangler had 12 kills, 26 digs and 3 blocks. Also with 3 blocks were Lauren Outwater and McKenzie Zinn. The Lady Cardinals are now 5-and-1 in league play with their overall record at 31-5-and-1.
There was a split in the reserve action. The host Beavers took the j-v match 2-games-to-1. Madison Zinn had 11 assists and 5 digs. Kenzie Galloway had 12 kills and Carlee Smoker added 9 assists. The j-v record is 18-13-and-1. Coldwater won the freshman match in 2 games. Haley Reincke had 3 aces and 7 kills as they improved their record to 25-3-and-5.
Also in volleyball, Bronson was a winner at Centreville in three games, 25-16, 25-16, 25-8. Brooke Pyles had 16 kills and 16 digs. Amberly Bercaw had 3 aces. And Miranda O'Neill had 29 assists. The Lady Vikings are now 6-and-0 in the St. Joe Valley Conference with their overall record at 39-8-and-1.
It's the next to last weekend of the regular season in football and all four Branch County teams play tonight on the road, including Coldwater at Harper Creek. We'll have the 7 o'clock game on the radio and stream the audio on-line at wtvbam.com with our live coverage beginning at 6:30. Elsewhere, it's Quincy at Reading, Bronson at Mendon, and Union City at Jonesville.
Congratulations to Union City coach Eric Tundevold, who has been named by the Detroit Lions as the 2011 Week 7 recipient of the high school Coach of the Week, a program presented by the Michigan Army National Guard. Tundevold's Chargers are undefeated and ranked seventh in the state in Division Seven by the Free Press. The National Guard program recognizes each week the high school football coach in Michigan that best develops the character of his players, discipline and skills as well as his commitment to the team, school, and community.
Today on the Coach's Corner, we'll have a final look at Coldwater girl's golf with Coach John Petzko.
In middle school sports, in volleyball, Coldwater hosted Battle Creek Lakeview. In the eighth grade "A" match, Coldwater lost in two games. Shelby Kahler had 9 service points and 2 aces. Stacy Guzy and Katie Scheidler each had 6 assists. And Naomi Blansit had 5 kills.
In the "B" match, Coldwater beat the Spartans 2-games-to-1. Brionna Bunsold had 9 serves while Emilie Dunny had 2 kills and a block. In the seventh grade action, Coldwater won the "A" match 2-games-to-1. Hanna Parrish had 5 serves and 4 aces while Megan Gallup had 3 kills. Lakeview won the "B" match in three games. Mikayla Croyle had 12 serving points for Coldwater.