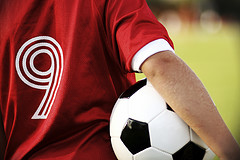 COLDWATER, MI (WTVB) - In Branch County high school sports last night, the Coldwater boy's soccer team advanced to the Division Two Adrian District Semifinals with an 8-to-0 mercy rule victory over the host Adrian Maples. The Cardinals scored their first goal less than 6 minutes into the game and never looked back, leading 5-to-0 at the half. The match ended on the final goal of the night with 24 minutes left in the second half. Jamal Mohsen had 2 goals for Coldwater.
Also scoring for the Cards were Ibrahim Ahmed, Mohamed Aljabaly, Jordan Eddy, Trae McGuire, Saleh Mousa and Keven Fishero. Fishero also had 2 assists. Single assists came from Mousa, Ahmed, Roberto Perez, Roberto Cruz, and Yousif Aljabaly. With the win the Cardinals improve to 14-and-7, tying the school record for wins in a season set 2 years ago. They'll play Sturgis in the district semi finals tomorrow at Adrian with the match scheduled to start at 5 p.m. Sturgis drew a bye in the first round.
Last night in volleyball, in a Big Eight Conference Branch County matchup, Union City was a winner at Quincy in four games, 25-22, 25-19, 23-25, 25-17. For Union City, Brooke Johnson had 15 kills and 6 blocks. McKensey McRae had 10 digs and 2 aces. Brittney Keller also had 2 aces. And Jasmine McIntosh had 18 assists.Union Cityimproved its conference mark to 3-and-3 with their overall record at 12-12-and-3.
For Quincy, Morgan Kotwicki had 9 kills and 3 solo blocks. Regen Stahl had 22 digs. Bailey Knaack had 11 assists. And Jenny Poindexter had 4 aces. Kotwicki, Hannah Evans and Halle Pohl all had 100% serving.
In cross country, it was the fourth and final Big Eight jamboree of the season yesterday at Homer and in the final league standings, for the boys, Quincy finished third and Union City was fourth while for the girls, Quincy took third place and Union City was seventh.
In the all-conference individual standings, for the boys, Quincy's Brett Palmer finished eighth with Union City's Austin Palmer ninth. For the girls,Quincy's Megan Karney finished in seventh place whileUnion City's Katie Birch took ninth place.
Also in cross country, Bronson's boy's team finished first while the girl's team was second in the St.JoeValleychampionship meet at Mendon. In the boy's race, Caleb McGuire finished first with Matt Cosby third, Hunter Machus fourth and Dale Disbro ninth. And in the girl's race, Corissa Ross was the winner with Tana Shimp fifth and Mariah Roberts seventh.
On today's high school schedule, in boy's soccer, Quincy has a state tournament semi-final match at 4 p.m. against Brooklyn Columbia Central at the Onsted Division Three District. And in volleyball, Coldwater plays at home against Sturgis.
Today on the Coach's Corner, it's Bronson football coach Jeff Gallup.
In middle school sports, in volleyball, Coldwater wrapped up it season at home against Gull Lake. In the 8th grade "A" match, Coldwater lost 2-games-to-1. Kendall Galloway had 9 service points. Maggie Pool had 5 digs. Kyleigh Scheidler had 5 assists. And Naomi Blansit had 4 kills and 1 block.GullLake won the "B" match 3-games-to-1. Aubrey Schindler and Brionna Bunsold led the way in serving while the passing leaders were Carly Cunningham and Brianna Hyde.
In the seventh grade "A" match, the Lady Cardinals lost 2-games-to-1. Leading in serving was Ally Butler with 4 aces and 4 good serves. Carly Howell led in kills with 4 while Megan Lippert led in assists with 6. In the "B" match, Coldwater lost in three games. Kaitlynn Gallant had 7 service points. Hannah Reynolds and Brooke Lafferty led the way in kills and Veronica Crandall was the leader in digs.