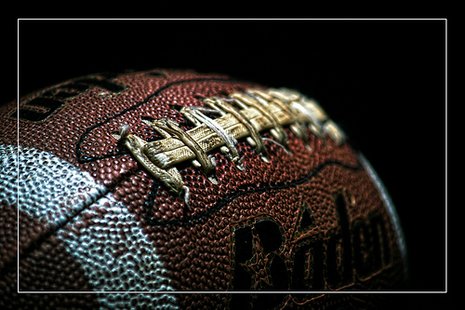 COLDWATER, MI (WTVB) - in Branch County high school sports, the Union City Chargers are moving on in the MHSAA football playoffs after their 13-to-7 win last night over visiting Sand Creek at Alumni Field. The Division Seven pre-district victory to begin the post season sends Union City on the road next weekend to play Hudson for the district title in what will be matchup of undefeated teams.
Last night's defensive battle at Union City had the Chargers and Aggies tied 7-7 at halftime. Union City opened the scoring with 4:41 left in opening period on a 1-yard run by Chris Maye. Before the end of the first quarter, the rain started to fall and it stayed wet for the duration although that didn't prevent Sand Creek from answering the Charger's score as they got on the board with 1:54 remaining in the half on a 4-yard run.
It was a scoreless third quarter and then Union City struck for what turned out to be the winning touchdown set up by a Chris Maye interception and Maye made the Aggies pay with 7:15 left in the fourth quarter on an 8-yard run.
The kick for the extra point was wide right but Union City's defense would dig in and the Chargers locked up the win with a late interception after pinning the Aggies deep in their own territory. Chris Maye, who rushed for 123 yards on 18 carries with the pair of touchdown runs, was our McDonald's Player of the Game. So it will be the Chargers next weekend at Hudson.
The Hudson Tigers are the defending Division Seven champions and like Union City, improved to 10-and-0 last night with a convincing 40-to-13 win over Reading. The date and time for the district title game at Hudson has not yet been announced but whether it's Friday night or Saturday afternoon, we'll carry the contest live here for you on A-M-1590 WTVB.
In Eight-Man football, it was the first ever playoff game last night for Tekonsha, but the Indians came up short in their regional semi-final game at Litchfield as the host Terriers beat the Indians 34-to-28. Evan Calhoun led Tekonsha with 247 yards rushing on 13 carries with two touchdowns. Matt Katz also scored twice with 85 yards on the ground. On defense, Calhoun had 16 tackles while Andrew Aldrich had 14 tackles and an interception. Tekonsha closes out with a 5-and-5 record.
Checking last night's scoreboard for the rest of the area's playoff teams:
Division Two
Muskegon 40 Mattawan 19
Division Three
Harper Creek 21 Hastings 14
Mason 38 Sturgis 26
Division Four
Pennfield 28 Vicksburg 7
Division Five
Jackson Lumen Christi 35 Ida 9
Dowagiac 24 Parchment 8
Lansing Catholic Central 55 Olivet 41
Division Six
Grass Lake 21 Hillsdale 0
Schoolcraft 34 Cassopolis 13
Division Seven
Saranac 24 Springport 20
Division Eight
Pittsford 20 Morenci 7
Climax-Scotts 30 Bellevue 16
On today's high school schedule, there are regular season ending Conference tournaments in volleyball with Coldwater playing at Harper Creek in the SMAC Tournament. Quincy and Union City compete in the Big Eight tournament at Homer while Bronson is hosting the St. Joe Valley Conference tournament.
And in Cross Country today in Jackson at Sharp Park, Coldwater runs in the Division Two regionals while Bronson, Quincy, and Union City compete in Division Three race.